Tatiana Maslany in Orphan Black
This woman was a force to be reckoned with in Orphan Black. Maslany played a tech geek, a suburban mom, a police officer on the ropes, a young woman fighting to be in her daughters life while pretending to be one of her look a likes, and a crazy Russian woman to name a few. There are actresses who have played twins before, but Maslany took the concept of playing different characters who look a like to a whole new level. This girl just earned a Golden Globe nomination today, and won two critics award for this role; she is great.
Michael Douglas and Matt Damon in Behind the Candelabra
Hard to pick just one man in this duo, if I had to pick I would honestly pick Damon because he does so much with a much less showy role. Yet you can't help not think that Douglas is beyond amazing as the genius musical talent Liberace from the voice, to the mannerisms. These two men took on one of the most challenging films about a complicated relationship in the spotlight, enraptured with youth. Liberace was a complicated man, and Douglas played him perfectly. Damon played the flaws in Scotty better than existed in the book the film was based. Damon got the innocence, the selfishness, the love, every emotion spot on, something hard to embellish.
Orange is the New Black Ensemble
Like with Damon and Douglas, how do you pick just one of these women? Here are a few to highlight.
Taylor Schilling as Piper Chapman
At first glance Piper is the least interesting character, and she is the lead, but as you watch you see this once privileged women become part of a much more complicated world. As Piper spends more time in prison you feel her pain, anguish, and also see her grow.
Taryn Manning as Tiffany 'Pensatucky' Doggett
Nuts, is as easy way to describe this former meth head turned fundamentalist. Manning is brilliant, and frightening within this role, you have to hate her, but you almost admire that you hate her.
Kate Mulgrew as Galina 'Red' Reznikov
Red runs the prison, but in her personal life she was a nobody. As you watch Mulgrew run the show, and lose control you see vulnerability in a woman who does not want to be able to give up power; she is fantastic.
Uzo Aduba as Suzanne 'Crazy Eyes Warren
When you first meet 'Crazy Eyes' as she falls for Piper, you assume, well crazy, but as you get to know and understand the complexity to her character you see another deeper more meaningful understanding of a misunderstood person.
Laverne Cox as Sophia Burset
This is the best representation of transgender identity in popular culture to date. Cox is a brilliant actress; she knows who she is, and dealing with her trans identity in a prison world is complex Cox does a great job with this role.
These are just five of the numerous great performances that make up the Orange is the Black Ensemble.
Corey Stoll in House of Cards
Stoll played Representative Peter Russo, a man caught in Francis Underwood's (Kevin Spacey) cross hairs in his master plan to manipulate. Peter not only navigates the tricky political world but a relationship with a staffer and an addiction to drugs and and alcohol.
It's hard to outshine Kevin Spacey, the man is force in everything he does, but Corey Stoll goes toe to toe with him, and while he may not win; he puts up a good fight.
Allison Janney in Mom/Masters of Sex
What can't Allison Janney do?
Janney is stealing the show Mom on a weekly basis as Bonnie a grandmother, mother, and recovering alcohol and drug addict. Janney's timing is perfect, and she makes this show better week after week. Janney is not just about the laughs her recurring guest role on Masters of Sex has provided a richer context to show, and the development of a woman's sexual awakening in the 1960s. This woman is a chameleon, and its hard to ignore her greatness.
Dean Norris in Breaking Bad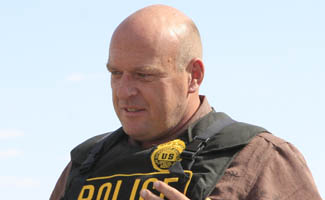 While Bryan Cranston and Aaron Paul are the obvious choices, the standout of the the last season of Breaking Bad was Hank. From the moment Hank sees the abbreviated intitals on the toilet, to the intense confrontation in the garage with Walt, and tries to make things right for his family you sit of the edge of your seat. Norris was great as Hank, and while the character had moments of being one note throughout most of the earlier seasons, this season added to his depth, and a lot of credit goes to Norris' acting.
Josh Charles in The Good Wife
Wow, just wow! Josh Charles grabbed a Golden Globe nominee today, he also has an Emmy nomination for this role from a couple of seasons ago, man has he knocked his emotional journey out of the park this year. Will was "betrayed" by Alicia the woman he loved at one point leaving their firm as he now refers to as LG, and he is on a tear sleeping with the anti-Alicia trying to be there for clients to way Alicia was, this guy just knocks every moment of of the park, if you aren't watching this show, start.