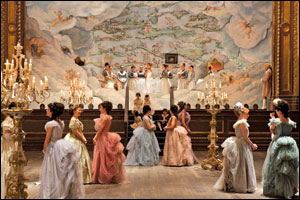 Today the Art Director's Guild announced their awards, and while there were no surprises, except no
Moonrise Kingdom
these Guild Awards help show which smaller films have more support. In the film categories they also break down the nominees by genre: period, fantasy, and contemporary film.
The actual Oscar nominees usually fall between the Period and Fantasy film categories. I think this year's Oscar nominees will be all of the period films (minus
Argo
) and
The Hobbit: An Unexpected Journey
.
Cloud Atlas
and
Life of Pi
have a strong shot to knock out Django, but I think Django's recent release gives the film a leg up on the competition.
I have to add that the television nominations are also incredible, and they nominated two of my favorite shows,
Newsroom
, and
Community
. Bravo!
NOMINEES FOR EXCELLENCE IN PRODUCTION DESIGN FOR A FEATURE FILM IN 2012:
ANNA KARENINA
Production Designer: Sarah Greenwood
ARGO
Production Designer: Sharon Seymour
DJANGO UNCHAINED
Production Designer: J. Michael Riva
LES MISÉRABLES
Production Designer: Eve Stewart
LINCOLN
Production Designer: Rick Carter
CLOUD ATLAS
Production Designer: Uli Hanisch, Hugh Bateup
LIFE OF PI
Production Designer: David Gropman
PROMETHEUS
Production Designer: Arthur Max
THE DARK KNIGHT RISES
Production Designers: Nathan Crowley, Kevin Kavanaugh
THE HOBBIT: AN UNEXPECTED JOURNEY
Production Designer: Dan Hannah
FLIGHT
Production Designer: Nelson Coates
SKYFALL
Production Designer: Dennis Gassner
THE BEST EXOTIC MARIGOLD HOTEL
Production Designer: Alan MacDonald
THE IMPOSSIBLE
Production Designer: Eugenio Caballero
ZERO DARK THIRTY
Production Designer: Jeremy Hindle
NOMINEES FOR EXCELLENCE IN PRODUCTION DESIGN IN TELEVISION FOR 2012:
One-Hour Single Camera Television Series
BOARDWALK EMPIRE Episode: Resolution
Production Designer:Bill Groom
DOWNTON ABBEY Episode: Christmas Special
Production Designer: Donal Woods
GAME OF THRONES Episode: The Ghost of Harrenhal
Production Designer: Gemma Jackson
HOMELAND Episode: The Choice
Production Designer: John D. Kretschmer
NEWSROOM Episode: We Just Decided To
Production Designer:Richard Hoover
Television Movie or Miniseries
AMERICAN HORROR STORY: ASYLUM Episode: I Am Anne Frank, Part 2
Production Designer: Mark Worthington
GAME CHANGE
Production Designer: Michael Corenblith
HATFIELDS and MCCOYS
Episode: Ep.#1.1-Night One, Ep.#1.2-Night Two, Ep.#1.3-Night Three
Production Designer: Derek R. Hill
HEMINGWAY & GELLHORN
Production Designer: Geoffrey Kirkland
MOCKINGBIRD LANE
Production Designer: Michael Wylie
Episode of a Half Hour Single-Camera Television Series
COMMUNITY Episode: Pillows and Blankets
Production Designer: Denise Pizzini
GIRLS Episode: Pilot
Production Designer: Judy Becker
MODERN FAMILY Episode: Mystery Date
Production Designer: Richard Berg
PARKS & RECREATION Episode: Soda Tax
Production Designer: Ian Phillips
THE NEW NORMAL Episode: Sofa's Choice
Production Designer: Tony Fanning
Episode of a Multicamera, Variety, or Unscripted Series
2 BROKE GIRLS Episode: And The Silent Partner
Production Designer: Glenda Rovello
DEMOCRATIC NATIONAL CONVENTION
Production Designer: Bruce Rodgers
HOW I MET YOUR MOTHER Episode: The Magicians Code Part 1
Production Designer: Stephan Olson
SATURDAY NIGHT LIVE Episode: Mick Jagger Host
Production Designer: Keith Raywood
THE VOICE
Production Designer: Anton Goss, James Pearse Connelly