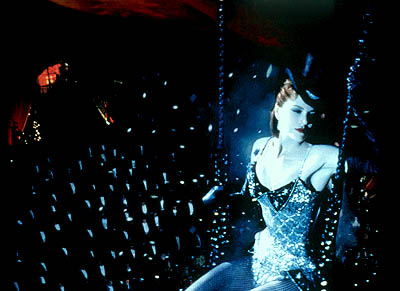 This past Sunday night I went to show tunes at Union in Columbus, Ohio. I sang, I laughed, and well simply put, I had an awesome time. I love musicals, they can make you happy, you can sing a long, they can be bad and campy, but I just love them. It made me think about my favorite musicals of all time. Here is a list of my favorite movie musicals.
1-
Moulin Rouge
(2001) The movie that made me fall in LOVE with musicals. I had seen other musicals in my life like Mary Poppins and The Sound of Music, but when I watched Moulin Rouge on DVD (none of my friends would see it in the movies with me), I fell in love with musicals. I thought this film took a unique twist on the musical film, using modern day existing music to create a musical film. There was of course one original song entitled "Come What May" which is one of the most beautiful songs. In the film Satine (Nicole Kidman) is a courtesan who falls in love with a struggling poet Christian (Ewen McGregor) who is trying to find inspiration, and of course the two fall in love, but not without their struggles. The story is beautiful, and it began the birth of the modern day musical and its incorporation in television and film today. "Love is a many splendid thing love lifts up where we belong" and this film inspired my eternal love for musicals.
2-
Singin in the Rain
(1952) What more can you ask for with the charm of Gene Kelly as he dances down the street with an umbrella in hand and as rain pours down on him. The film chronicles one of the funniest moments in film history, the switch from silent films to speaking pictures. In the film Lina Lamont (the hilarious Jean Hagen-and only Oscar nominated performance from the film) has a terrible voice and can't sing or act well in these films, so they bring in another actress to do the speaking for her Kathy Selden (the eternally talented Debbie Reynolds), and the singing and dancing begins. Gene Kelly and Donald O'Conor are both hilarious and just charming in this film. You can't help but smile, and whistle every song. My friend Keith says that the songs don't add to the plot, but in this musical there is enough charm to make it the best musical ever made, and my second favorite musical of all time!
3-
Mary Poppins
(1964) Practically perfect in every way! This was one of my favorite childhood films. Julie Andrews voice is a gift from God (so sad she can't sing anymore). I loved to laugh as the characters drink tea on ceiling and sing that wonderful number. Mary Poppins is the nanny who comes to bring the Banks family together. The family is lost as their father spends all his time at work away from his family. Andrews portrayal as this wonderful woman earned her an Academy Award (deserving). From the dancing on the roof tops with the number "Steppin Time", this film is just supercalifragilisticexpialidocious!
4-
The Sound of Music
(1965) Julie Andrews is on the list again as go figure another woman who goes to take care of children, but this time she plays a nun named Maria who falls in love with and ends with the father of the children, Captain Von Trap (Christopher Plummer). The music is great, and the main cast even fights and rebels against Nazism. There is not much more you can ask from this musical, which is a film I make sure I watch once a year around Easter.
5-
West Side Story
(1961) "I want to be in America!" The story of two star crossed lovers Tony and Maria who come from different cultures meet and fall in love at a dance in the gym. A modern day re-telling of Romeo and Juliet (not exactly the same details) where Riff (Tony's friend) leads the gang of white Jets and Maria's brother Bernado (Academy Award winner George Chakiris) leads the Sharks (Puerto Ricans). In the middle of all of this is Anita (Academy Award winner Rita Moreno) who plays Bernado's girlfriend and the one person who above believes in hope and true love. The dancing is great, the story is beautiful, and tragic.
The 60s spurred some of my favorite, and I think the best musicals of all time, I love watching a good musical. They make me feel oh so pretty and witty and gay.