So tonight's Tony Awards were fun as usual, and Neil Patrick Harris was a great host. I did not get to see as many shows that were eligible for this season but I did see
The Importance of Being Earnest, Catch Me If you Can, and Women on the Edge of a Nervous Breakdown
. I hope to see
The Book of Mormon
and
The Normal Heart
(before it closes). The Book of Mormon basically had a clean sweep only losing in the Lead Actor in a Musical category, choreography and Featured Actor in a Musical. This looks like a great show, and I am sure it deserves all the awards it won, but I hate a sweep, and this goes for all award shows!
When films sweep it takes away from the anticipation of the nominees. As Chris Rock presented the award for Best Musical he made a joke stating not knowing who the winner of this award is silly. Rock stated "You don't need to buy a hooker dinner to get her to go to bed with you." The hooker is going to sleep with you because no matter what she's a hooker.
There were 3 films that won 11 Oscars: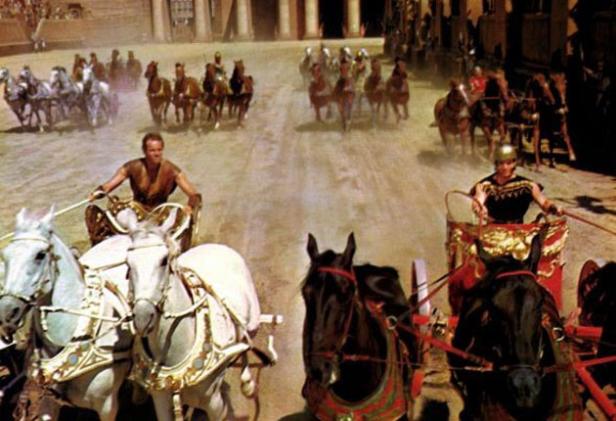 Ben-Hur
(1959)-This film had 13 Oscar nominations, so it only lost 2 awards that evening. Of the nominees I probably would have picked this film, but this was also the year of Some Like it Hot, a true classic great funny film. I would have picked Some Like it Hot as the Best Picture winner and would have given a couple of awards.
In those days films about cross dressing were easily bested by a film ancient Rome with amazing technical aspects (although Ben-Hur has lots of homo-erotic moments).
Titanic
(1997) - Titanic received 14 nominations and lost three two in the acting categories, and one for its screenplay. This film was technical marvel, but could have shared many of its awards with LA Confidential the noir murder mystery film directed by Curtis Hanson. Titanic was a powerhouse film at the box office, and it commanded the attention of more viewers for an award show.
The Lord of the Rings: The Return of the King
(2003)- Was nominated for 11 awards and won all of their awards. This might be one of the films that came closest to deserving all 11 of these awards on this list, but could have lost film editing to
City of God
or
21 Grams
, lost Best Original Song to A Kiss at the End of the Rainbow from
A Mighty Wind
, and Costume Design to
Girl with a Pearl Earring
.
There is no film, play musical, or television show that deserves to win everything. I love it when films deserve to win for what they deserve to win for. When you watch an award show, you can't help but wonder if voters get lazy and check the box for the same film or show over and over again. I hope voters don't get lazy, and they actually do take the time to pick the best rather than play a political game and pick the something because its hip or cool to pick.