Enough Said (4 out of 5 Stars)
Director/Writer: Nicole Holofcener (Lovely & Amazing, Friends with Money)
Starring: Julia Louis Dreyfus, James Gandolfini, Toni Collette, and Catherine Keener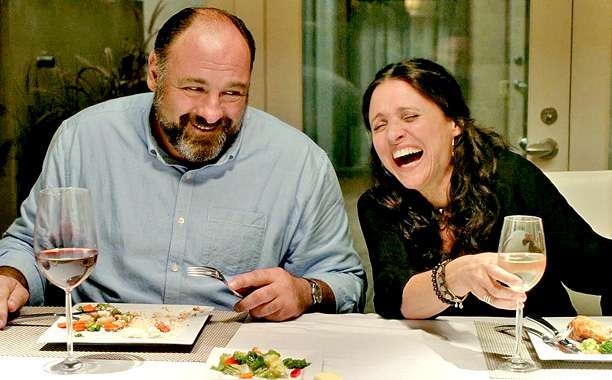 There are so few films about realistic adult relationships, whether they be based in love of a partner or friendship today. Nicole Holofcener is a great voice for this genre, her past work Lovely & Amazing, and Friends with Money along with Enough Said are some of the most honest films about adulthood.
Enough Said centers around Eva (Louis-Dreyfus) and Albert (Gandolfini) both are divorced and trying with their personal lives as their children are heading to college. Eva and Albert meet at a party one evening both declaring no one at the party is attractive them, but they in fact end up on a date with one another soon after. Eva also meets Marianne at the party, who Albert's ex-wife, but Eva does not know this at the time. Eva develops a relationship with both, and eventually pieces together their past relationship, while trying to juggle her own identity separate from parenthood.
Holofcener's script is one of the sharpest of the year; she develops great characters who while in their late 40s early 50s are searching to find their identities separate from their children and ex-spouses. Eva was a closet eater whose ex had to stop by buying bread, and sweets so she would not eat them on the side. Albert was deemed sloppy and not funny by his ex. Like today's current internet era, how do you escape the yelp ad of your ex, and start a new relationship as you get older.
Holofcener's script works to develop Eva so well, there is a lack of confidence that she can maintain a mature relationship with Albert. Eva wants Marianne's reviews/feedback on the man, but it starts to inform a negative opinion of him. Eva wants both love and friendship, and she sees these as two different things, which creates a barrier as she gets to know both Albert and Marianne. Holofcener's script and the film sound like traditional rom-com fodder, but the work explores taboos like vanity and loneliness of dating in your 50s.
Holofcener's casts always hit it out of the park; she did this with Friends with Money where even Jennifer Anniston broke the Rachel mold. In this film Dreyfus and Gandolfini are these misfits who worry about how much they eat, what they eat, or even Alabert's worry that he will crush Eva in bed. These two have such magnetic chemistry, they feel they are wrong for one another because their past has given way to lower their esteem, but what these two create is a beautiful, and realistic romance. Dreyfus taps into a lighter less quirky side, as does Gandolfini. While most these two for their television characters, both create love able misfits that fit together so well.