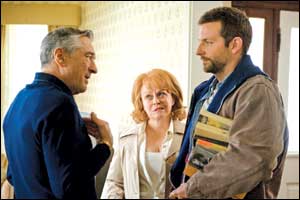 For the first time since their inception, the Screen Actor's Guild (SAG) announced their film (and
television) nominations before the Golden Globes. In the beginning the award show calendar was a lot longer and the Globe winners actually impacted the SAG nominations. As the years passed and the calendar shrunk, the SAG nominations started to released after the Globe nominations happened, giving award show gurus/pundits a chance to examine to sets of data. This year SAG beat the Globes to the punch, gaining newfound glory in Oscar predicting, but will the stars line-up, and will this have any impact on Oscar? Let's examine the nominees:
Best Ensemble
Argo
The Best Exotic Marigold Hotel
Les Miserables
Lincoln
Silver Linings Playbook
Four of these nominees were expected, and have been set to be Best Picture nominees for a while now. The only somewhat surprise is Marigold Hotel, the film fills that "ensemble" spot often filled by films like The Full Monty, The Birdcage, and a few others, but is this film a Best Picture threat? Hotel will pick up a bunch of Globe nominations, and has two here, do not count this film out, I think it could be the little film that could (in regards to getting nominations).
Best Actor in a Leading Role
Bradley Cooper-Silver Linings Playbook
Daniel Day-Lewis-Lincoln
John Hawkes-The Sessions
Hugh Jackman-Les Miserables
Denzel Washington-Flight
Joaquin Phoenix put his foot in his mouth about awards, and the actors listened. Phoenix snub is a bit surprising, but not totally off base from this group. Cooper's performance is too hard to forget, and I knew he would get included, I thought they would snub Hawkes. This could be the final five come Oscar time, The Master is divisive, and Joaquin's comments about not caring about the Oscar ran out clearer than his apology.
Best Actress in a Leading Role
Jessica Chastain-Zero Dark Thirty
Marion Cotillard-Rust and Bone
Jennifer Lawrence Silver Linings Playbook
Helen Mirren-Hitchcock
Naomi Watts-The Impossible
I predicted this category completely. None of this is surprising, and also could be the top five come Oscar time, but Beasts of the Southern Wild did not qualify so look for Quvenzhane to be a threat to Mirren's spot. Emmanuelle Riva could also be a spoiler.
Best Actor in a Supporting Role
Alan Arkin-Argo
Javier Bardem-Skyfall
Robert DeNiro-Silver Linings Playbook
Phillip Seymour Hoffman-The Master
Tommy Lee Jones-Lincoln
First thing, this looks like the Oscar nominees to me, and if so everyone in this category has won, this happens very infrequently. With all five being Oscar winners, Tommy Lee Jones is bound to win again. I must say I am proud of Badem; he is going to to become the first actor to be nominated for a Bond film, and be the franchises first nomination (along with song and Cinematography).
Best Actress in a Supporting Role
Sally Field-Lincoln
Ann Hathaway-Les Miserables
Helen Hunt-The Sessions
Nicole Kidman-The Paperboy
Maggie Smith-The Best Exotic Marigold Hotel
All I have to say is Nicole Kidman's nomination is the biggest WTF moment of the day for me, did she get for being peed on? Field, Hathaway, and Hunt are now locks. Smith has a great chance as well, and people just seem to nominate her for reading the phone book. Kidman and Smith are double nominees this year (nominated in television categories). This category always has some shake-ups, look for Ann Dowd and Amy Adams (with whom I am shocked missed a nomination) to be major players still.
Best Stunt-Ensemble
The Amazing Spider-Man
The Bourne Legacy
The Dark Knight Rises
Les Miserable
Skyfall