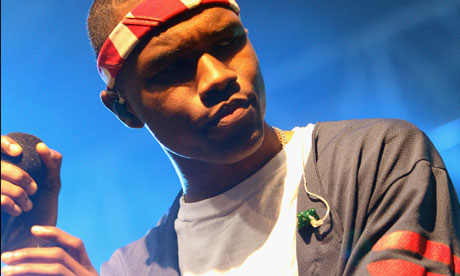 The Grammy Awards seem to always have a well balanced amount of men and women nominated for
their awards, in fact there seems to be a few more women who dominate these awards with high number tallies. This year has proven to be the opposite. This year
Kanye
West, Jay-Z, fun, Frank Ocean, Mumford and Sons, and Dan
Auerbach
lead the pack with 6 nominations. Not a woman in site! The next highest nomination recipient is the Black Keys with 5 nominations. Even the Album of the Year category has no women, with The Black Keys, fun, Mumford and Sons, and Jack White nominated in this category.
Before I get into the lack of women nominated, there is also one new thing that has happened this year, 6 nominees in the Record of the Year category, this has never happened. This also sets an interesting precedent. Does this mean an increased number of nominations coming down the line? Are the Grammy's trying to see how folks react, or if they can do something similar to the Emmy Awards? Maybe there was just a tie. All six nominees are solid, and that's why this category is the best of the General Field. Now on to the women.
Did the NARAS forget the women? Sure Kelly Clarkson has 4 nominations, and has the most in the major categories (a pleasant surprise). The only other women in the major categories is Carly Rae Jepsen, Taylor Swift, Janelle Monae (as a featured artist), and even the Best New Artist category which is usually dominated by women only has The Lumineers Neyla Pekarek. I swear there were women who released albums, Florence + the Machine would have been a welcome nominee to the major categories, but she was regulated to the pop genre (although I am not sure she fits there). The country Solo Performance category is also only men, and there is no Miranda Lamber or Carrie Underwood, which is shocking. This may prove that getting rid of the gender divide is a problem for this award show.
Many of the artists seem outside of the genre, but that may have been to get a nomination, many of these artists in the major categories like fun., Gotye, Mumford and Sons, Jack White, and The Black Keys have alternative roots but they were placed elsewhere. This is going to be an interesting Grammy year, and at the moment I would state that the winners are, up in the air, with no clear front runners.
Many of the genres were entirely entirely forgotten in the major four categories, like there is not a single Rap nomination, which is telling because the genre nominations are extremely competitive, what happened? R&B only has a Song of the Year nomination that came out of nowhere for Miguel. Country also has a small showing with Hunter Hayes as a Best New Artist nominee.
While in some respect this group of nominees represents this year well, maybe it also proves this was one of the weakest years for new material, hell Carly Rae Jepsen has 2 Grammy nominations, that is frightening to me. While this year's nominees may be somewhat impressive, this will also be known as the year Grammy forgot women!
Here is a list of the majority of the nominations:
The Black Keys-El Camino
Frank Ocean-Channel Orange
The Black Keys-Lonely Boy
Kelly Clarkson-Stronger (What Doesn't Kill You)
fun featuring Janelle Monae-We Are Young
Gotye-Somebody That I Used to Know
Frank Ocean-Thinkin Bout You
Taylor Swift-We Are Never Ever Getting Back Together
A Team-performed by Ed Sheehan
Adorn-performed by Miguel
Call Me Maybe-performed by Carly Rae Jepsen
Stronger (What Doesn't Kill You)-performed by Kelly Clarkson
We Are Young-performed by fun featuring Janelle Monae
Florence + the Machine-Ceremonials
P!nk-The Truth about Love
Adele-Set Fire to the Rain (Live)
Kelly Clarkson-Stronger (What Doesn't Kill You)
Carly

Rae Jepsen-Call Me Maybe
Rihanna-Where Have You Been
Florence + the Machine-Shake it Out
Fun feauring Janelle Monae-We Are Young
Gotye featuring Kimbra-Somebody that I Used to Know
Maroon 5 &Wiz Kahlifa-Payphone
Calvin Harris featuring Ne-Yo-Let's Go
Skrillex featuring Sirah-Bangarang
Sweedish House Mafia featuring John Martin-Don't You Worry Child
Al Waiser-I Can't Live without You
Best Dance/Electronica Album
Steve Aoki-The Wonderland
The Chemical Brothers-Don't think
Deadmau5-Album Title Goes Here
Mumford and Sons-I Will Wait
Bruce Springsteen-We Can Take Care of Our Own
Mumford and Sons-I will Wait
Bruce Springsteen-We Take Care of Our Own
Muse-The 2nd Law
Bruce Springsteen-Wrecking Ball
Fiona Apple-

The Idler Wheel Is Wiser Than The Driver Of The Screw And Whipping Cords Will Serve You More Than Ropes Will Ever Do
M83-Hurry Up We're Dreaming
Robert Glasper featuring Ledisi-Gonna Be Alright (F.T.B.)
Tarnia-Beautiful Surprise
Anthony Hamiliton-Pray for Me
Best Urban Contemprary Album
Miguel-Kaleidescope Dream
Frank Ocean-Channel Orange
Robert Glasper Experiment-Black Radio
Anthony Hamilton-Back to Love
Drake featuring Lil Wayne-HYFR (Hell Yeah F***ing Right)
Jay-Z featuring Kanye West-N****s in Paris
Kanye West featuring Big Sean Pusha T, and 2 Chainz-Mercy
Young Jeezy featuring Jay-Z and Andree 3000-I Do
Best Rap Sung Collaboration
Flo Rida featuring Sia-Wild Ones
Jay-Z featuring Kanye West, Frank Ocean, and the The Dream-No Church in the Wild
John Legend featuring Ludacris-Tonight (Best You Ever Had)
Nas featuring Amy Winehouse-Cherry Wine
Rihanna featuring Jay-Z-Talk that Talk
Mercy-Kanye West featuring Big Sean Pusha T, and 2 Chainz
The Motto-Drake featuring Lil Wayne
N****s in Paris- Jay-Z and Kanye West
Young and Wild and Free-Snoop Dogg, Wiz Kahlifa, and Bruno Mars
Lupe Fiasco-Food & Liquor: The Great American Rap Album Part 1
Rick Ross-God Forgives I Don't
2 Chainz-Based on a T.R.U. Story
Best Country Solo Performance
Ronnie Dunn-Cost of Living
Best Country Performance by a Duo or Group
Ell Young Band-Even if it Break Your Heart
Taylor Swift and the Civil Wars-Safe and Sound
The Time Jumpers-On the Outskirts of Town
Don Williams featuring Allison Krause-I Just Come Here for the Music
Carrie Underwood-Blown Away
Ronnie Dunn-Cost of Livin
Ell Young Band-Even if it Break Your Heart
Allan Jackson-So You Don't Love me Anymore
Hunter Hayes-Hunter Hayes
Jamey Johnson-Living for a Song: A Tribute Hank Cochran
Miranda Lambert-For the Record
The Time Jumpers-The Time Jumpers
Jimmy Fallon-Blow Your Pants Off
Lewis Black-In God we Rust
Margaret Cho-Cho Dependent (Live in Concert)
Kathy Griffin-Kathy Griffin: Seaman 1st Class
Jim Gaffigan-Mr. Universe
Best
Compilation Soundtrack for Visual Media
The Descendants
Marley
Midnight in Paris
The Muppets
Rock of Ages
Best Soundtrack Score for Visual Media
The Adventures of Tin Tin-John Williams
The Artist-Ludovic Bource
The Dark Knight Rises-Hans Zimmer
The Girl with the Dragon Tattoo-Trent Reznor and Atticus Ross
Hugo-Howard Shore
Journey-Austin Wintory
Best Song Written for Visual Media
Abraham's
Daughter
-performed by Trent Reznor (from The Hunger Games)
Lean Me Right-performed by Mumford and Sons (from Brave)
Let Me Be Your Star-performed by Katherine McPhee and Megan Hilty (from Smash)
Man or Muppet-performed by Jason Segal and Walter (from The Muppets)
Safe and Sound-performed by Taylor Swift and The Civil Wars (from The Hunger Games)
Best Musical Theatre Album
Follies
The Gershwin's Porgie and Bess
Newsies
Nice Work if You Can Get it
Once: A New Musical