The Emmy Awards are not just about Comedy and Drama, but they also have many other categories , which contribute to the fabric of primetime television. Here are some of my dream nominees for variety programming, reality series, animated series, and the mini-series/movie category. Six days until the nominations are announced!
Outstanding Reality Competition Series
RuPaul's Drag Race-
A reality show so different, yet the same as many others that keeps you excited about the action week after week. RuPaul has made Logo something to be proud of (a rare occasion). This reality competition program continued to be on fire this season, and glitter bombs the competition into dust.
Outstanding Reality Host
Cat Deely-So You Think You Can Dance-Deely makes hosting so effortless, and fun, as it should be; she is one of the more natural hosts working today and I appreciate her most.I am not a huge fan of this reality show (mainly because i have an ex that is associated with the show at one point) but Deely makes the reality show fresh with her natural hosting abilities.
Outstanding Variety Series
Late Night with Jimmy Fallon
-One of my least favorite SNL cast members who could never keep a straight face for the camera has turned out to be one of the strongest late night hosts. Fallon is terrific, and he has found his grove in comedy so much so that even when he hosted SNL this year he was actually one of the best hosts of the season. Most of this can be attributed to his maturity, thanks to great work on this show.
Outstanding Mini-Series/Movie
Sherlock Holmes: Scandal in Belgravia
-Although I kind of wish this went into the drama series category like Downton Abbey, I think this is one of the mini-series I have ever watched. Mark Gattis, and Stevem Moffat constructed the most beautifully brilliant writing combined with great performances. Choosing this specific "movie"within the second series was brilliant. Sherlock Holmes versus Irene Adler, the henchwoman of Moriarty. This was one of the best constructed episodes which explores more emotional levels of Holmes, brilliant!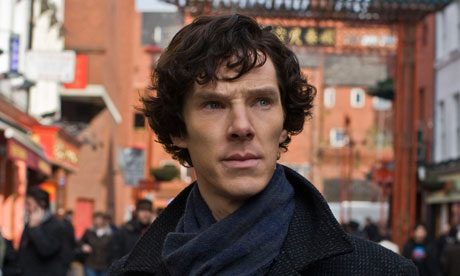 Outstanding Lead Actor in a Mini-Series/Movie
Benedict Cumberbatch-Sherlock Holmes: Scandal in Belgravia
-One of the best performances I have seen this year. Holmes is usually cold, full of procedure, and unwilling to open up. In Belgravia Holmes meets Irene Adler, and this opens up the emotionally raw side of him, letting one of the most touching yet heart wrenching performances commence. Cumberbatch is brilliant as the typical Sherlock, but also shows more depth.
Outstanding Lead Actress in a Mini-Series/Movie
Julianne Moore-Game Change
-When Tina Fey did her impression, audiences laughed. When Julianne Moore stepped into these shoes for this film everyone was floored in a different way. Moore played this polarizing role with passion, without mimicry, and that makes me feel for Palin at times, while walking away from the film hating her. What a performance!
Outstanding Supporting Actor in a Mini-Series/Movie
Ed Harris-Game Change-
What's a nomination for Sarah Palin's portrayer without the man who was actually poised for the White House. Harris gave a strong performance that was not even close to mimicry; he was strong stoic, and did the repeat loser for the bid for the highest office justice.
Outstanding Supporting Actress in a Mini-Series/Movie
Frances Conroy-American Horror Story-
Lange was the stand out, but Conroy was may be another over looked scene stealer in this category merely because she does not have a big name. One of my favorite parts of this show was Conroy, I hope she can steal a nomination.
Outstanding Main Title Design
American Horror Story
-I recently sited this as one of the best main title designs of all time, hence why it should be nominated and win the Emmy for this category this year. The design is spooky, and brilliantly ties in the plot of the series.
Outstanding Animated Series
Archer
-This is not the traditional animated series, but it's currently the most original on the air, and deserves to win over the tired Simpson's and South Park. My hope is that the show gets its due and get nominated.
Outstanding Original Song-Lazy Sunday Part 2 performed by Chris Parnell and Andy Samberg-Saturday Night Live-
The perfect sequel to part one, and one of the best ways for Samberg and his creative team behind his digital shorts to leave SNL. The digital shorts made SNL relevant again, and Samberg, the mastermind behind these, had a brilliant sequel. The first Lazy Sunday short was the first of its kind, and it made me smile to see a sequel.