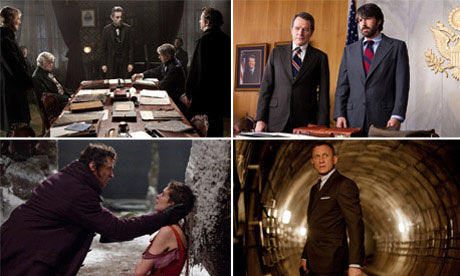 Well stick a fork in the Best Picture category folks, Argo has won almost every major Best Picture Award (non-critics), and will be poised to be the first film to win without a director nomination since Driving Miss Daisy in 1989.
Argo
won two other prizes at BAFTA, Best Director, and Best Editing.
Affleck winning the Director race across the board, and being snubbed by the Academy poses an interesting question in this category. Who will win? Oscar pundits can't use data to help predict this award, predictions have to be based on a hunch this year. At the moment I think this is a two person race, but surprise surprise I do not think either of those people is Steven Spielberg. I think the director race is going to be between Ang Lee for Life of Pi, and David O. Russell for Silver Linings Playbook. Spielberg may have received thunderous applause at DGA, and he is not out of this race, but Lincoln has been snubbed across the board; he was not even nominated for BAFTA. Lee is a well like director, and many are impressed with the directorial achievement of this film. O. Russell is ahead of Spielberg in my book for several reasons, this is seen as a personal project for him (people know this) he also has Harvey behind him, and Harvey could push him for a win in this category because of Affleck's snub.
BAFTA added a little variety to the Best Actress category picking Emanuelle Riva to win over favorites Jessica Chastain and Jennifer Lawrence. This is a big win, and here's why. Silver Linings Playbook did not receive many nominations from BAFTA, they only received two nominations, and while no one predicted O. Russell to win Adapted Screenplay, he did, another surprise. If BAFTA liked the film enough they would have picked Lawrence. Zero Dark Thirty took home no awards, and while Chastain could still win she is in third place in my book. While Zero Dark is fading Silver Linings Playbook is gaining momentum, and Amour is clearly beloved. Winning at BAFTA in this category is a pretty good sign for a win at Oscar, Meryl Streep in The Iron Lady, Natalie Portman in Black Swan, Marion Cotillard in La vie en Rose, and many more. While this is not fool proof this gives Emanuelle Riva a massive bump in the voting season. Look for her to surprise with a potential win.
BAFTA has added another interesting layer to the Best Supporting Actor category as well. Christoph Waltz who won the Golden Globe, won at BAFTA here today. Tommy Lee Jones won at SAG. Phillip Seymour Hoffman won at the critics choice, so wins at the Oscars? Several critics on Twitter have said it best Waltz is lead in a supporting category, which gives him the edge, and the Academy likes this type of performance. Waltz could take this! Django also won in Best Original Screenplay, and while Tarantino is not up for WGA, neither is its fiercest competitor Amour. Look for Tarantino to win screenplay, making up for his loss for Inglorious Basterds in 2009.
The other big surprises is that Les Miserables won four trophies (Best Production Design, Best Make-Up/Hair, Best Sound, and Best Supporting Actress). The film is a British production so I am not surprised it won these awards, but may not at the Oscars. The other British film which scored big was Skyfall, which won for Best British Film, and Best Score (Thomas Newman).
Overall BAFTA seals the deal for wins by Argo (Best Picture, Best Editing), Daniel Day-Lewis (Best Actor), Anne Hathaway (Best Supporting Actress), Life of Pi (Best Cinematography, and Best Visual Effects), Anna Karenina (Best Costume Design), and Amour (Best Foreign Language Film), and the rest are up to the fate of the Oscar Gods.
"The Best Exotic Marigold Hotel"
Quentin Tarantino, "Django Unchained"
Kathryn Bigelow, "Zero Dark Thirty"
Bradley Cooper, "Silver Linings Playbook"
X - Daniel Day-Lewis, "Lincoln"
Joaquin Phoenix, "The Master"
Hugh Jackman, "Les Misérables"
Jessica Chastain, "Zero Dark Thirty"
Marion Cotillard, "Rust and Bone"
Jennifer Lawrence, "Silver Linings Playbook"
Helen Mirren, "Hitchcock"
X - Emmanuelle Riva, "Amour"
Philip Seymour Hoffman, "The Master"
Tommy Lee Jones, "Lincoln"
X - Christoph Waltz, "Django Unchained"
X - Anne Hathaway, "Les Misérables"
Helen Hunt, "The Sessions"
"Beasts of the Southern Wild"
X - "Silver Linings Playbook"
BEST FOREIGN LANGUAGE FILM
X-"Searching for Sugar Man"
"Snow White and the Huntsman"
"The Hobbit: An Unexpected Journey"
"The Hobbit: An Unexpected Journey"
"The Hobbit: An Unexpected Journey"
BEST DEBUT BY BRITISH WRITER/DIRECTOR/PRODUCER
Thina Garavi (writer/director), "I Am Nasrine"
X - Bart Layton (writer) and Dimitri Doganis (producer), "The Imposter"
David Morris (director) and Jacqui Morris (director/producer), "McCullin"
James Bobin (director), "The Muppets"
Dexter Fletcher (writer/director) and Danny King (writer), "Wild Bill"