Over the years at the Academy Awards one of my favorite and most under appreciated categories is Costume Design. The costumes tell a story, and help make some of the best visual representation on screen.
If you think about the many years of film there are numerous iconic costumes, which have become unforgettable. All the way back to 1939 you have Scarlet O'Hara's numerous dresses including her curtain dress, to Dorothy's plaid dress to costuming people in a galaxy far far away in Star Wars, all the way to Miranda Priestly's many outfits and jackets she threw on Andrea's desk. Film costumes throughout time have evolved fitting the need of their film, and defined a viewer's experience.
Scott Feinberg at The Hollywood Reporter (THR) put together a great piece talking with their fashion consultant at THR about this year's costumes. One of my favorite comments that was made was that films that do not fit within the fantasy or period piece realm are often not recognized at the Academy Awards. A couple examples which were cited even citing some period film which were ignored this year were
Moonrise Kingdom, Argo, and Skyfall. Skyfall
is the perfect example, look at those fantastic suits, and the dresses of the Bond girls. These films told a story through the clothes on the screen, and while many take them for granted they are one of the most important elements of a film.
If you look at past years think of films like
Devil Wears Prada
, and their great costumes. Prada was competing against the power house period costumes from
Marie Antoinette
. Period films from much older eras, and fantasy films often dominate these categories. If you look at the last 10 years of Costume Design nominees 98 percent of the nominees fit within this category. Even looking at this year the fantastic costumes the nominees completely within this trend. The major question is will the Academy break from this and realize the role in which non-traditional costume design plays within a film, or will they keep up with the same pattern?
Anna Karenina-Jaqueline Durran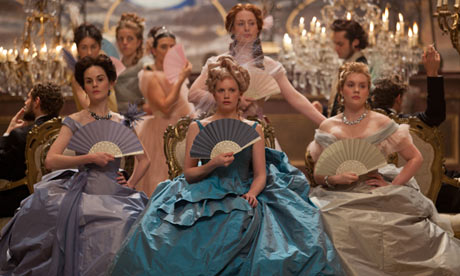 Les Miserables-Paco Delgado
Lincoln-Joanna Johnston
Mirror Mirror-Eika Ishioka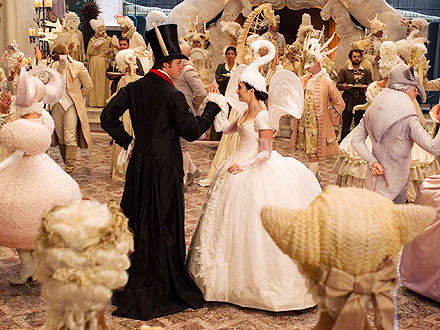 Snow White and the Huntsman-Colleen Atwood
Of all the nominees the favorite is Anna Karenina, Jacquline Durran's works is flawless and based on the pictures above as a representation of of the costumes as characters it is the easy favorite to win this trophy. Durran should have won this award for her work in Atonement, but was beat by another period film Elizabeth: The Golden Age. If any film were to challenge Karenina I would like that to be Mirrror Mirror, the costumes elevated this film beyond any level. Eika Ishioka passed away before Mirror Mirror was even released and she did not get to see see her fantastic work hit the screen. Colleen Atwood is the veteran in this category; she has nine nominations and three wins, and while her work is solid she will not be making it up to the podium this year.

Will Win: Anna Karenina
Spoiler: Mirror Mirror