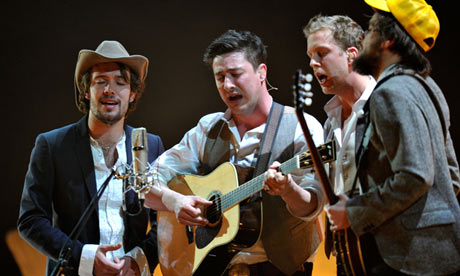 The Grammy Awards were a bit mellow this year with regard to there performances, while T-
Swift tried to kick things off with an upbeat note her live performance of "We are Never Getting Back Together" just baffled, and was odd.
Of the performances the person who stole show was Justin Timberlake and his instagram like performance for his new song "Suit and Tie" with Jay-Z. Along with JT many of the performances while mellow kept the spirit of music alive from Mumford and Sons enchanting "I will Wait" to Kelly Clarkson's powerful vocals.
While the performers often steal the show from the actual awards, this may be one of the years where the Grammy's did a great job spreading the wealth. fun. took home two major Grammy Awards for Song of the Year and Best New Artist.
While many not realize this but the big winners of the night were Gotye, and The Black Keys, Kanye West with three each. Gotye won for Record of the Year, Best Performance by a Pop Duo or Group, and Best Alternative Album. The Black Keys stole rock categories winning Best Rock Album, Best Rock Song, and Best Rock Performance. Kanye won three awards in the rap categories Best Rap Song, Performance, and Performance by a Duo or Group. Although Dan Auerbach won 4 trophies (lead vocalist an guitarist for The Black Keys) because he also won Producer of the Year (Non-Classical). While these artists split most of the wins Mumford and Sons went on to win Album of the Year, after winning only one other award.
My favorite moment of the evening was Kelly Clarkson's genuinely shocked expression/hilarious speech as she won Best Pop Vocal Album, and while her win was a shock, she was hilarious and loved the way she did a shout out to Miguel. I also loved to hate on Taylor Swift as the camera flashed to her knowing everyone's songs and singing and dancing awkwardly.
GRAMMY AWARDS SHOW WINNERS:
Album of the Year-Mumford and Sons-Babel
Record of the Year: Gotye featuring Kimbra-Somebody that I used to Know
Best New Artist:
fun.
Best Country Album:
Uncaged
, Zac Brown Band
Best Rap/Sung Collaboration:
"No Church in the Wild," Jay-Z and Kanye West feat. Frank Ocean and The-Dream
Best Pop Vocal Album:
Stronger
, Kelly Clarkson
Best Rock Performance:
"Lonely Boy," The Black Keys
Best Urban Contemporary Album:
Channel Orange
, Frank Ocean
Song of the Year:
"We Are Young," fun.
Best Country Solo Performance:
"Blown Away," Carrie Underwood
Best Pop Solo Performance:
"Set Fire to the Rain [Live]," Adele
PRE-GRAMMY AWARDS SHOW WINNERS:
Producer of the Year: Dan Auerbach
Best Pop Duo/Group Performance: "Somebody That I Used To Know," Goyte feat. Kimbra
Best Alternative Music Album: Making Mirrors, Goyte
Best Rock Album: El Camino, The Black Keys
Best Rock Song: "Lonely Boy," The Black Keys
Best Hard Rock/Metal Performance: "Love Bites (So Do I)," Halestorm
Best Traditional Pop Vocal Album: Kisses on the Bottom, Paul McCartney
Best Country Song: "Blown Away," Carrie Underwood
Best Country Duo/Group Performance: "Poonton," Little Big Town
Best World Album: The Living Room Sessions Part 1, Ravi Shankar
Best R&B Song: "Adorn," Miguel
Best R&B Performance: "Climax," Usher
Best Traditional R&B Performance: "Love On Top," Beyonce
Best Pop Instrumental Album: Impressions, Chris Botti
Best Rap Album: Take Care, Drake
Best Rap Song: "N****s In Paris," Jay-Z and Kanye West
Best Rap Performace: "N****s In Paris," Jay-Z and Kanye West
Best Score Soundtrack for Visual Media: The Girl With The Dragon Tattoo, Trent Reznor & Atticus Ross
Best Song Written for Visual Media: "Safe and Sound," Taylor Swift for Hunger Games
Best R&B Album: Black Radio, Robert Glasper
Best Dance/Electronica Album: Bangarang, Skrillex
Best Dance Recording: "Bangarang," Skrillex featuring Sirah
Best Regional Roots Album: The Band Courtbouillon, Wayne Toups, Steve Riley & Wilson Savoy
Best Folk Album: The Goat Rodeo Sessions, Yo-Yo Ma, Stuart Duncan, Edgar Meyer & Chris Thile
Best Bluegrass Album: Nobody Knows You, Steep Canyon Rangers
Best Blues Album: Locked Down, Dr. John
Best Americana Album: Slipstream, Bonnie Raitt
Best Musical Theater Album: Once: A Musical, Steve Kazee & Cristin Milioti, principal soloists; Steven Epstein & Martin Lowe, producers (Glen Hansard & Marketa Irglova, composers/lyricists)
Best Compilation Soundtrack Album: Midnight In Paris
Best Jazz Instrumental Album: Unity Band, Pat Metheny Unity Band
Best Large Jazz Ensemble Album: Dear Diz (Every Day I Think Of You), Arturo Sandoval
Best Latin Jazz Album: ¡Ritmo!, The Clare Fischer Latin Jazz Big Band
Best Jazz Vocal Album: Radio Music Society, Esperanza Spaulding
Best Improvised Jazz Solo: "Hot House," Gary Buron & Chick Corea
Best New Age Album: Echoes of Love, Oakram
Best Comedy Album: Blow Your Pants Off, Jimmy Fallon
Best Spoken Word Album: Society's Child: My Autobiography, Janis Ian
Best Children's Album: Can You Canoe?, The Okee Dokee Brothers
Best Reggae Album: Rebirth, Jimmy Cliff
Best Contemporary Classical Composition: "Hartke, Stephen: Meanwhile - Incidental Music To Imaginary Puppet Plays," Stephen Hartke
Best Classical Compendium: "Penderecki: Fonogrammi; Horn Concerto; Partita; The Awakening Of Jacob; Anaklasis," Antoni Wit
Best Choral Performance: "Life & Breath—Choral Works By Rene Clausen," Charles Bruffy, conductor (Matthew Gladden, Lindsey Lang, Rebecca Lloyd, Sarah Tannehill & Pamela Williamson; Kansas City Chorale)
Best Chamber Music/Small Ensemble Performance: "Meanwhile," Eighth Blackbird
Best Classical Instrumental Solo: "Kurtag & Ligeti: Music For Viola," Kim Kashkashian
Best Classical Vocal Performance: "Poemes," Renee Fleming
Best Producer of the Year, Classical: Blanton Alspaugh
Best Orchestral Performance: "Adams Harmonielehre and Short Ride In A Fast Machine," Michael Tilson Thomas
Best Opera Recording: "Wagner: Der Ring Des Nibelungen,"James Levine and Fabio Luisi
Best Engineered Album, Classical: Life & Breath, Tom Caufield and John Newton
Best Tropical Latin Album: Retro, Marlow Rosado Y La Riqueña
Best Regional Mexican Music Album (Including Tejano): Pecados Y Milagros, Lila Downs
Best Latin Rock, Urban or Alternative Album: Imaginaries, Quetzal
Best Latin Pop Album, Rock or Urban Album: MTV Unplugged Deluxe Edition, Juanes
Best Contemporary Christian Music Album: Eye on It, TobyMac
Best Gospel Album: Gravity, Lecrae
Best Contemporary Christian Music Song: "10,000 Reasons (Bless the Lord)," Matt Redman, & "Your Presence is Heaven," Israel and New Breed
Best Gospel Song: "Go Get It," Mary Mary
Best Gospel Contemporary Christian Musical Performance: "10,000 Reason (Bless the Lord)," Matt Redman
Best Surround Sound Album: Modern Cool, Jim Anderson, surround mix engineer; Darcy Proper, surround mastering engineer; Michael Friedman, surround producer (Patricia Barber)
Best Remixed Recording, Non Classical: "Promises (Skrillex & Nero Remix)," Skrillex, remixer (Nero)
Best Engineered Album, Non Classical: The Goat Rodeo Sessions, Richard King, engineer, Richard King, mastering engineer (Yo-Yo Ma, Stuart Duncan, Edgar Meyer & Chris Thile)
Best Historical Album: The Smile Sessions (Deluxe Box Set), Alan Boyd, Mark Linett, Brian Wilson & Dennis Wolfe, compilation producers; Mark Linett, mastering engineer (The Beach Boys)
Best Album Notes: Singular Genius: The Complete ABC Singles, Billy Vera, album notes writer (Ray Charles)
Best Boxed or Special Limited Edition Package: Woody At 100: The Woody Guthrie Centennial Collection, Fritz Klaetke, art director (Woody Guthrie)
Best Recording Package: "Biophilia," Michael Amzalag & Mathias Augustyniak, art directors (Björk)
Best Instrumental Arrangement Accompanying Vocalist: "City of Roses," Thara Memory & Esperanza Spalding, arrangers (Esperanza Spalding)
Best Instrumental Arrangement: "How About You," Gil Evans, arranger (Gil Evans Project)
Best Instrumental Composition: "Mozart Goes Dancing," Chick Corea, composer (Chick Corea & Gary Burton)
Best Long Form Music Video: "Big Easy Express," Mumford & Sons, Edward Sharpe & The Magnetic Zeros & Old Crow Medicine Show
Best Short Form Music Video: "We Found Love," Rihanna feat. Calvin Harris