The Outstanding Lead Actress in a Comedy Series award is highly competitive this year with seven nominees. Throughout the years this category has been one of the most entertaining to watch namely because there have been so many talented women competing. From Lucille Ball to the Golden Girls (minus Sophia) all the way up to Tina Fey's modern day woman in Liz Lemon.
One problem with the winners in this category, up until the 2000s, was that the same women kept winning this trophy. Candice Bergen has five wins for portraying the iconic television character Murphy Brown in the self titled television series
Murphy Brown
. After Bergen's long winning streak in the late 80s into the early 90s another actress took up that crown, Helen Hunt. Hunt won four Emmy Awards playing Jaime Buchman in the NBC comedy
Mad About You
.
Mary Tyler Moore has also won five Emmy Awards in this category, but her wins are split between two shows. Moore won three times for
The Mary Tyler Moore Show
, and won twice for
The Dick Van Dyke Show
. Moore winning five trophies is a testament to her true comedic/acting abilities; she created two different legendary characters, and I applaud all of these wins.
While I do not begrudge Bergen or Hunt of their numerous accolades I must say that there were several funny women throughout this time who deserved a little recognition like: Patricia Richardson from
Home Improvement
, Cybill Shepherd for
Cybil
, Ellen DeGeneres for
Ellen
, and Calista Flockheart for
Ally McBeal
to name a handful.
After
Mad About You
went off the air it looked like this category was going to crown another repeat winner in Patricia Heaton; she won two back to back Emmy Awards for
Everybody Loves Raymond
in 2000 and 2001. However the opposite was the case, this category has not crowned a repeat winner in over ten years, a pattern that has never existed within this category.
This year that non repetitive pattern could be broken. The seven nominees in this category are: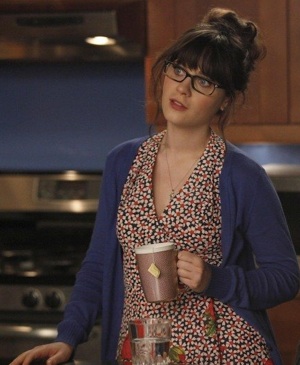 Zooey Deschanel-
The New Girl
Lena Dunham-
Girls
Edie Falco-
Nurse Jackie
Tina Fey-
30 Rock
Julia Louis Dreyfus-
Veep
Melissa McCarthy-
Mike & Molly
Amy Poehler-
Parks and Recreation
Of the women nominated four of these women have won in this category before, Falco, Fey, Louis-Dreyfuss, and McCarthy. Of these four women Dreyfus has the best shot of winning; she is competing for a brand new show, which is also a nominee in the Outstanding Comedy Series category. At the moment my prediction is Dreyfus, but you can't rule out any of the three women who have never won before.
Dunham is a four time nominee this, for producing, acting, writing, and directing. Will she be snubbed in all four categories, my guess is she takes home the writing category, or goes home empty handed.
Deschanel had an Emmy misfire, and the judges who watched all the Emmy tapes in this category were sent the wrong tapes so they get to see her twice, this gives her a leg up, and she truly is funny.
Poehler has 5 nominations under her belt, two for Saturday Night Live, and three for Parks and Recreation, her campaign story was an uphill battle, and voters may finally want to reward her truly hilarious Leslie Knope.
Looking at each of the four prominent possibilities, and the other three nominees proves that you can't count any of these funny ladies out. All of these seven women provide non stop laughs, and great acting through their shows. Even Falco and Dunham who have dramedies have some laugh out loud moments that seal the deal for me.
These seven women uphold the great comedic styles of the women who came before, and also show that television is evolutionary. While Tina Fey is a modern day Mary Tyler Moore in her show, she also created, writes for, and is a producer on the show. Dunham is no Carrie Bradshaw, and she wants to make that clear. Girls is told from the perspective of modern day girls who came from privilege, and are trying to survive in society. Deschanel brings quirk to a whole new level that made first famous by Dharma's Jenna Elfman.
Each of these women pay homage to those who came before them, like Moore, Hunt, Arthur, White, Stapleton, Rashad, and especially Ball. At the end of the day the winner is the audiences who get the opportunity to find these funny women on their television screens on a nightly basis.