This past week I announced my dream nominees for Outstanding Supporting Actor in a Drama Series, and now on to the leading ladies. This year provided some beautifully brilliant moments for women in drama. From a CIA operative with bipolar disorder to a young lady of noble blood attempting to find her place in 1910s society, all the way to being the matriarch of a motorcycle gang. Here are my dream nominees for the Emmy awards.
Claire Danes as Carrie Mathison in Homeland-Danes has always been one of the most dependable actress working. From My So Called Life to her film work to this present day series she commands any screen. In Homeland Danes goes 0 to 60 in moment. Carrie is a CIA operative with bipolar disorder bent on proving a soldier who has returned home is an operative for Al-Queda. Danes intensity masked with vulnerability is sheer brilliance and one of the strongest leading performances in years.
Michelle Dockery as Lady Mary Crawley in Downton Abbey-Lady Mary Crawley is one brash lady; she is more than just a woman of noble blood, she is a woman who breaks societal norms of the time and looks to want to find love rather than convenience. Mary will fall in love one minute and within the next shoot herself in the foot by challenging the patriarchal authority of the man who feels she is stronger than the man. Watching her is a beautiful case study in brash behavior and wonderful acting.
Julianna Marguilles as Alicia Florek in The Good Wife-After 3 years as the housewife turned lawyer Mrs. Florek still continues to storm the gates, and is one of the best female characters on television. Marguilles handled a betrayal from her best friend, breaking the rules and choosing her own path by seeing Will, and insecurities about her career path and a challenging junior associate. Marguilles still breaths fire into this role, and takes this character to different levels.
Elisabeth Moss as Peggy Olsen in Mad Men-Peggy has become one of the strongest female characters, and is a brilliant case study in character development. Together Matthew Weiner and Moss have helped her grow from a study in a silence voice in the 60s to a woman who challenges the man, literally. This season Peggy bucked familial tradition moving in with her long time boyfriend, and walked away from Don, and advertising agency. No person has ever made Don Draper baulk, but Peggy, and I give full credit to Moss.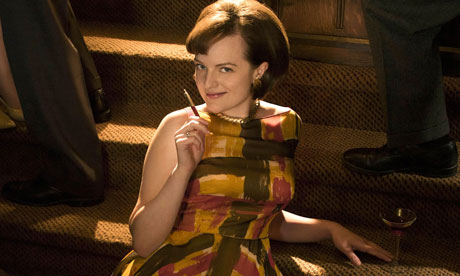 Emmy
Rossum as Fiona Gallagher in
Shameless-Rossum has certainly grown into her own as an actress; she started with the music of the night in Phantom of the Opera, now she is wrangling her brothers and sisters as a pseudo parental figure. Rossum did not make my list last year, but this season she more than toppled the other actresses in this category. Rossum is one of the best parts of this terrific ensemble, and she holds nothing back.
Katey Sagal as Gemma Teller Morrow in Sons of Anarchy-While season three hit some skids in road, the show and Sagal was on full cylinders this season. Sagal is a wonderful actress, and while the show is about group of men in a motorcycle gang Gemma's matriarch position often becomes one of the most central characters within the series. Gemma is a fighter and within this season she proved that even as the show progresses she is still one badass character.