So I will be away from my blog again this week (starting Tuesday) I will be traveling some more to Montclair, New Jersey and Atlanta, Georgia. It will be a long week, but it made me think about how traveling is a big theme in movies. The journey often starts out simple-or as if everything should be smooth sailing, but then things go terribly wrong. No,
Are We There Yet?
is not going to be on this list. Within some movies the journey was always meant to be a troubling, but we can't help enjoy the end result.
1-Easy Rider (1969) The classic tale of disillusionment as two bikers Wyatt (Peter Fonda) and Billy (Dennis Hopper) travel across America from L.A. to New Orleans for Mardi Gras. Now I watched this in my religion class back in high school because my teacher was a hippy and love this film. The movie shows the heart of 1960s America and even through the tragic ending the film points out that sometimes the simplest journeys are the most complex.
2-
Up in the Air
(2009) Jason Reitman directed this brilliant film about Ryan Bingham (George Clooney) who lives his life in airplane; he lives to travel and hates to be settled down in his home. As Bingham encounters Natalie Keener (Anna Kendrick) his young protege, and Alex Goran (Vera Farmiga) he suddenly starts to have a change of heart and feels that his life like his back allegory is empty and shallow. This film tells a tale of how their is value in home and settling down, and constant travel is just an easy escape from life's pain that can not be prevented.
3-
Back to the Future
(1985) Sure it's about time travel, but the movie is still about Marty McFly (Michael J. Fox) going back in the past and watching his parents eventually meet up and fall in love. This movie is just plain great, as a kid you always wonder what your parents were like as teenagers, well Marty McFly gets to see them in all their glory. What a great alternative type of travel.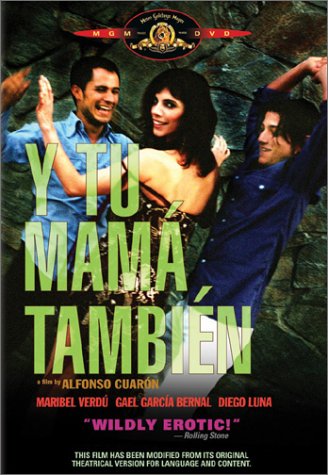 4-
Y Tu Mama Tambien
(2001) When two best friends and and a twenty-something woman go a road trip they end learning more about love, sex, and their friendship. What starts as fun road trip turns into a heartbreaking journey as Tenoch (Diego Luna) and Julio (Gael Garcia Bernal) evolve from teenagers to men as they try and impress Ana (Ana Lopez Mercado). The boys friendship is changed forever by this journey and in the last encounter they have you realize that some journeys break things rather than restore.
5-
National Lampoon's Vacation
(1983)-This to me is one of the funniest movies about a family trip gone wrong. Clark Griswold (Chevy Chase) and Ellen Griswold (Beverly D'Angello) take their two kids Russ and Audrey on a road trip across the country to get to Wally World. With great appearances Imogene Coca (Aunt Edna) Randy Quaid (Cousin Eddie) and John Candy (as the security guard at Wally World this film has you rolling on floor. The family endures weird, relatives, a death on the road, Christie Brinkley in a red convertible, and holding up an amusement park. This journey is hilarious.
I love to travel, but not two places in one week-but I will cope and hopefully this trip will yield some fun results. There are so many great movies about travel it was hard to pick, but here is a quote from The Motorcyle Diaries which would have been number six on the list:
"This is what traveling does to you. It changes you. That's probably the strangest feeling and confusion you get when coming home again. You are not the same person coming back as you were when you left. At least that is what it did to me, massively."