The Perks of Being a Wallflower (3 1/2 out of 5 Stars)
Directed and Written by Stephen Chbosky
Starring: Logan Lerman, Emma Watson, and Ezra Miller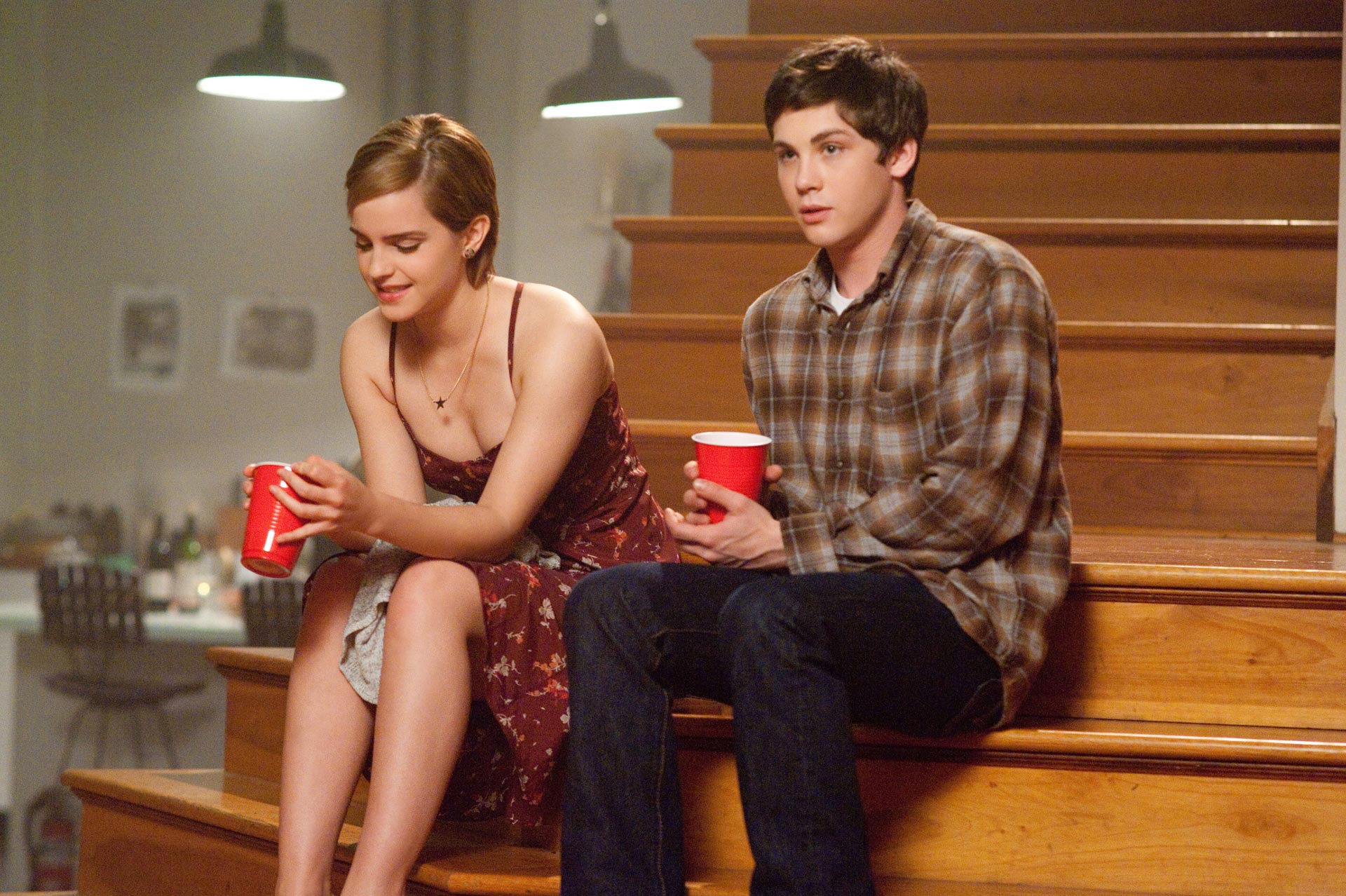 As the stress of my actual job builds and undergraduate students check into my building I needed to take time away from my job. The "perk" came in my e-mail last week, and went to the AMC Loews in the Boston Common to see the advance screening for this film. Confession, I had never read the book so my anticipation was merely based on the trailer. When I got there also had no idea the author of the book, who also wrote and directed the film would be doing a Q&A after the film.
The film centers Charlie (Logan Lerman) an introvert entering his first year of high school after a bit of a breakdown while in middle school. Charlie narrates his journey through understanding how to navigate the complex world of high school. At a football game Charlie unintentionally notices a senior from his shop class named Patrick (Ezra Miller) who seems like Charlie, more of an outcast. Charlie is so taken under the wing of Patrick and his step sister Sam (Emma Watson). Charlie soon embarks a journey with his senior friends and becomes part of this group of "wallflowers" the kids who are on the outside of things.
The film's strength, and heart come from writer/director (and the author of the novel), Stephen Chbosky. Chbosky knew his material well and even in his Q&A time was so articulate about the transformation of his own novel to the big screen. Few authors take their work, and direct and write their own screenplay for Hollywood, but this man did, and met the challenge. The beginning of the film had a bit of a slow start, and understanding Charlie was a challenge, but while speaking Chbosky highlights the challenges of portraying an introvert on screen. Once Charlie meets his friends, the story takes off and not only does Chbosky shine, but his screenplay is one of the most impressive tales/accurate portrayals of high school I have ever seen.
Set still in 1990 Pittsburgh like the novel, the characterization of bullying, and being an outcast is so aptly portrayed, without ever being cliche, or maudlin. The film has timeless elements that last throughout, like your first crush, but makes you nostalgic for the days of mix tapes. Using nostalgia allows the films older audiences to help create a strong bond with this film. While the film may seem "youth oriented" Chbosky never tries to hard to make this a film accessible to all. The film is genuine, and never panders to the audience to make you feel as though you need to try and buy something. Chbosky's characters and the actor who play them have a lot to do with this, sealing the emotional contract within this film.
Logan Lerman who has played people like Percy Jackson does a great job changing things up with a much quieter performance as Charlie. Playing someone who struggles internally at such a young age is a challenge, but Lerman does a great job. Ezra Miller's Patrick was a thing of beauty, and you could tell Chbosky had such admiration for him when he spoke, although he seemed to love all of his cast. Miller did a particularly good job breaking the norm. Miller had such a strong performance, and I would like to see him get some attention come Oscar season. From Paul Rudd who plays Charlies inspiring English teacher to Joan Cusack who plays his doctor, even small roles felt important, and these actors did an incredible job taking you on the emotional journey of this boy. My only disappointment was with Emma Watson..While I love Watson she seemed the most awkward in the role, although this may have been the direction given for character. Watson was stronger in her humorous moments, while fell flat in a few of her dramatic moments.
The film is funny, sad, touching, and is a great representation of what people go through on their journey to becoming adults. Chbosky used his own life experiences, along with the lives of those around him; he let us into the vulnerable world of an adolscent boy and his friends, showing people that that are perks to being on the outside, and you have to find those people who get you.