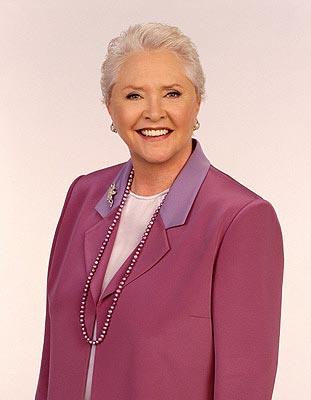 After 25 years The Bold and the Beautiful's Susan Flannery will bow out as the matriarch or the Forrester clan. Show runner Bill Bell will have Flannery on a limited contract to wrap things up, but as soon as her story ends she will leave the runway. This comes right on the heals of Ron Moss who plays her son Ridge Forrester in the show announcing he was leaving the show over money. Flannery and Moss were two of the original four characters still remaining on the show, leaving Katherine Kelly Lange (Brooke Forrester), and John McCook (Eric Forrester). Lange has signed a recent deal. Moss leaving the show is not a major loss, in fact I am excited for a potential recast, but Flannery leaving is another sad sign that the Daytime Drama or Soap Opera.
Flannery has been a staple in the Daytime community for an incredibly long time; she started out on Days of Our Lives as Dr. Laura Spencer Horton from 1966 through 1975; she also won the first Daytime Emmy Award for Outstanding Lead Actress in Daytime Drama for her last year on the show. Flannery's most memorable role has been as Stephanie Forrester in The Bold and the Beautiful. Susan Flannery originated the role in 1987 and has received 8 nominations for this role from 2000-2011, and won the award three time in 2000, 2002, and 2003.
Susan Flannery is one of the only grand dames of Daytime still on the air, and her departure from B&B will be a massive loss for the industry. From her famous fights with Brooke, to her loving protection of her family, Stephanie Forrester is force to be reckoned with, and will be missed on Daytime.
Few women like her on the air still, and many relegated to a supporting status. Stars like Jeanne Cooper, Deidre Hall, and arguably Melody Thomas Scott are just a a few left today. Although Hall and Scott bounce on and off their programs. Even Cooper has taken time away for health reasons. Soap Opera's are continually dying, and losing Susan Flannery from B&B, is another nail in the proverbial coffin.