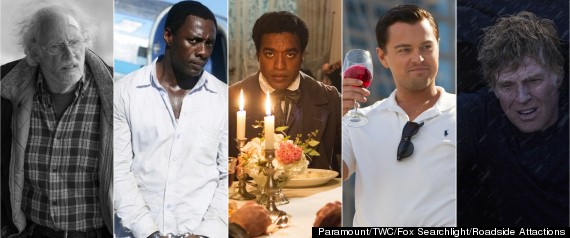 Yesterday's Independent Spirit Award Nominations proved one fact, there are so many great
performances from male leads this year that there had to be six nominees. The six nominees are Bruce Dern for Nebraska, Chiwetel Ejiofor for 12 Years a Slave, Oscar Isaacs for Inside Llewyn Davis, Michael B. Jordan for Fruitvale Station, Matthew McConaughey for Dallas Buyers Club, and Robert Redford for All is Lost.
Looking at this list of six most folks, including myself would go wow, this would be a great line-up for Oscar, and they and I would be right. There is just one or well a few minor problems, and they include: Tom Hanks for
Captain Phillips
, Forrest Whitaker for
Lee Daniels' The Butler,
Christian Bale in
Out of the Furnace
or
American Hustle
, Leonardo DiCaprio for
The Wolf of Wall Street
or even
The Great Gatsby
, and the bigger long shots Idris Elba for Mandela: Long Walk to Freedom, Joaquin Phoenix for Her, and Ben Stiller for The Secret Life of Walter Mitty. That is 15 possible candidates, and astounding.
Let's look at Independent Spirit Award Nominees past track record, meaning the last 5 years, or even 10 before that the amount of crossover between minimal.
2012
Only Bradley Cooper was nominated for both Oscar and and the Independent Spirit Award (ISA), but he did not win either John Hawkes who was a strong contender to be nominated, but missed out because of Joaquin Phoenix. Hawkes won the Spirit Award. Of the five nominees Cooper and Hawkes were the only strong contenders.
2011
Jean Dujardin won the ISA and the Oscar for Best Actor for The Artist, this rarely happens, but could happen again this year. Dujardin and Demian Bichir were the only two nominated for the ISA, and Oscar. The only other nominee for the ISA who had a possibility of being nominated was Ryan Gosling for Driver, but the Academy appeared to hate this film.
2010
James Franco was the only person nominated for ISA, and Oscar of the five nominees; he won the ISA, but lost Oscar to Colin Firth. None of the other four contenders were ever "serious" contenders for Oscar.
2009
Jeff Bridges won the Oscar and the ISA for Crazy Heart. The only other person nominated for both ISA and Oscar was Colin Firth for A Single Man. None of the other three men were "serious" contenders.
2008
If you want to find a year similar to to 2013, where ISA, and the Oscars line-up was 2008. 4 of the 5 nominees were nominated at both, and they were Sean Penn in Milk (who won the Oscar) Mickey Rourke for The Wrestler (won the ISA), Jeremy Renner for The Hurt Locker, and Richard Jenkins for The Visitor. I could see a similar situation to this happening this year, 4 of the five nominees come from this line-up, while two are snubbed.
Let's look at this year's ISA nominees:
Locks:
Chiwetel Ejiofor-12 Years a Slave
Robert Redford-All is Lost
Matthew McConaughey-Dallas Buyers Club
Ejiofor and Redford are the two top contenders at the moment, but watch out for Matthew McConaughey his performance in Dallas Buyers Club is the thing Oscar performances are made of!
Near Lock:
Bruce Dern-Nebraska
Dern is almost the next closest thing as a lock in this category, with his buddies like Nicholson and his daughter Laura Dern championing him, he can/will be a strong contender to not only be an Oscar nominee, but a surprise winner.
Longshots:
Oscar Isaacs-Inside Llewyn Davis
Michael B. Jordan-Fruitvale Station
Isaacs and Jordan are the newcomers of this group, they have critically acclaimed performances, but breaking into this category as relative new comers is going to be tough.
Who takes the fifth spot of the non-ISA contenders?
Tom Hanks-Captain Phillips-The film just made 100 million and he is getting rave reviews for his performance. The thing working against him is that people may just nominate him in supporting for Saving Mr. Banks.
Forrest Whitaker-Lee Daniels' The Butler-The film is going to better with Oscar voters than critics, and with Weinstein Company behind the film I can't imagine it not getting more than one acting nomination Whitaker has won before, is the movie out of sight out of mind?
Christian Bale-Out of the Furnace or American Hustle-If he was going to get nominated my money would be on Hustle, but in this tough year his performance and weight gain may be overlooked.
Leonardo DiCaprio-The Wolf of Wall Street or The Great Gatsby-Wolf has not been seen by anyone, and DiCaprio is always a dark horse especially in a Scorsese film. Gatsby is only a contender in the technical categories.
At the moment my prediction for Best Actor is:
Bruce Dern-Nebraska
Chiwetel Ejiofor-12 Years a Slave
Tom Hanks-Captain Phillips
Matthew McConaughey-Dallas Buyers Club
Robert Redford-All is Lost
Anything is possible in this category, but I only see one of these men losing out, if any. The truth of the matter is that Oscar should take a note from the ISA nominees, and have 6 nominated performances.