Argo (4 1/2 out of 5 Stars)
Directed by Ben Affleck (Gone Baby Gone, The Town)
Written by Chris Terrio (Heights)
Starring: Ben Affleck, Bryan Cranston, John Goodman, and Alan Arkin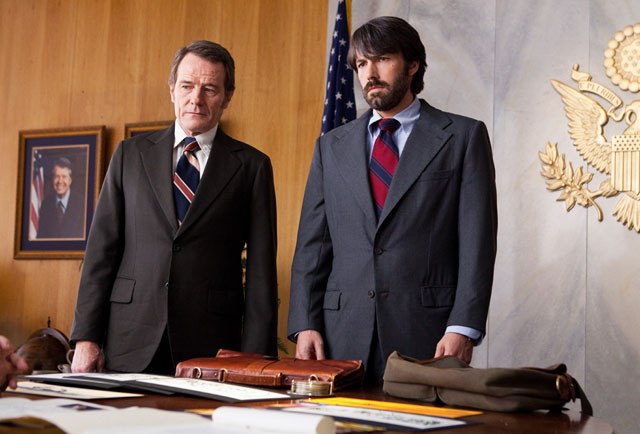 Fifteen years ago Ben Affleck was soon to take the stage at the Academy Awards with best buddy Matt Damon for writing the screenplay for the film Good Will Hunting. As the years passed Affleck took on more roles acting, from blockbusters like Armageddon to some major flops like Gigli. The Gigli disaster happened in 2003.
Four years later Mister Affleck took a different vantage point, one from the directors seat, with the film adaptation Gone Baby Gone. Gone garnered an Oscar nomination for Amy Ryan, and was well reviewed. Three years later he directed and adapted the screenplay for the film The Town. The Town's reviews were even better, and also garnered an Oscar nomination for Jeremy Renner. Affleck's career has evolved as a celebrity, but more so this film proves his evolution as an auteur. Argo is a thrilling, gripping edge of your seat thriller with a bit of comedy thrown in now and again creating near perfection.
Argo centers around the 1979 Iranian Revolution. Islamic militants storm the US embassy in Iran, they end up holding 52 people hostage while 6 people end up escaping, seeking refuge in the house of the Canadian Ambassador. In order to get the six Americans out of Iran a CIA 'exfiltration' specialist named Tony Mendez (Ben Affleck) works to concoct a plan to get the Americans out of Iran. Mendez works with one of colleagues Jack O'Donnell (Bryan Cranston) and comes up with an idea to create a fake movie entitle Argo to get into Iran and out with the six Americans.
The premise sounds absurd but this is based on real life events. Mendez real life actions were awarded a secret honor, and then quickly revoked in order to keep this mission, and the extent of US involvement hidden, until the 90s when President Bill Clinton opened the file and honored Mendez. This story is an important one, and shows the volatile nature of this part of the world continues to be a hot spot. Many will compare this revolution to the current situation going on in Libya, but there is sheer brilliance in the way this story is told, and how it builds to a gripping finale.
The star of this film (in all ways possible) is leading man/director Ben Affleck. Affleck moves away from Boston and into the terrain of Hollywood and Iran. One of my favorite lines in the script comes from the fake make-up artists on the film John Chambers (John Goodman) in which he states "

So you want to come to Hollywood and and act like a big shot without actually doing anything?..You will fit right in." This along with the line about anyone being able to direct are laugh out loud moments, but Affleck proves everyone may be able to point the camera, and shoot, but not everyone can create such great wor

k. This is one of the best films of the year, and Affleck's direction helps set the stage for everything to be made possible.
I always love thinking about a director, directing himself, and what pointers they must give. This makes me laugh. Affleck has however coached himself into making people forget some of his awful film roles because his performance as Mendez is incredible. This is one stellar ensemble filled with the men behind the scenes in DC and Hollywood. Alan Arkin plays the fake film's director, and his one liners add some great levity to this film. Goodman and Arkin are truly a dynamic duo. Bryan Cranston continues to prove why he is not only a brilliant leading man in television, but how he can take any role, and make it stand out on the screen. Affleck is at ease with strong ensembles, his last two films had incredible casts, and he made each character deep and contextual.
New screenwriter Chris Terrio words help blend the tension and comedy brilliantly; he appears to have a knack for showing multi-faceted layers, which is something that will land him lots of acclaim. William Goldenberg's masterful editing blends the real life imagery of the storming of the embassy with Affleck's camera work; he also provides some great cuts that allow the films tension to gain momentum, and blend every aspect of the film together. Alesandre Desplat's score is haunting, and creates this genius connection with the historical time period along with the different elements of th

e film. Together
all of these pieces fit together like a jigsaw puzzle, taut with perfection.
As this films tensions builds, and the history lesson ends (well sort of) you sit back listen to Jimmy Carter talk, and realize that as a society we are in a vicious cycle with this part of the world. Fear is a constant throughout this film, you are afraid you will lose these people, even though you may know the outcome, but the fear is salient with society today as well. Does this film teach lessons? Yes, two. The first seems to be we need to take a step back on things we do not know or understand, i.e. cultures, and parts of the globe. The second is how to make a modern day thriller about real life events.