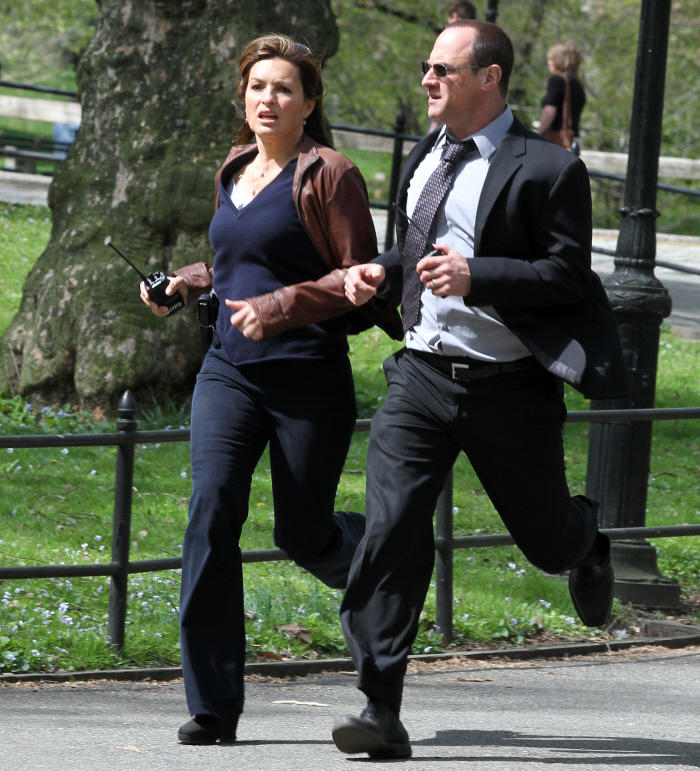 USA network uses the tagline "characters welcome." This tagline adheres to the quality of the show and the unique characters they have in their television programs. I like this tagline. When viewers watch television shows they get used characters in "their program." I would add another part or revise this phrase and say that characters matter.
Netflix has added a lot of episodes from the fall 2010-spring 2011 television season. While on call at my job I have been watching a lot of movies, and catching up on television shows that I missed, namely the last season of Law & Order: Special Victim's Unit. As I started watching this season I realized this was the last 24 episode I would watch with detective Elliot Stabler (Chris Meloni). Law & Order Special Victim's Unit has broken the tradition that most procedural dramas have adhered to. Most other procedural shows have had a revolving door with their lead characters, but for 12 years fans were able to tune in and watch Benson and Stabler fight crime and their sexual tension in the work place. This new season's first episode had its first episode without Stabler. The first episode had Stabler's partner Olivia Benson (Mariska Hargitay) solving a crime with the other cops in the precinct and things just were not the same. This is where the my tagline, characters matter, means something more. I think Stabler may be back towards the end of the year, but that is only because I think this will be the last year for this show.
and juggle their main characters as well, and it worked in the beginning, but when you put a character with no development or back story on the forefront of someone's television the viewer can either lose interest or walk away because there is a lack of buy-in. Jerry Orbach's Lennie Briscoe who was named one of the best television detectives of all time by TV Guide, before his death he stepped aside from Law & Order to help establish Law & Order: Trial by Jury, but his death prevented him from continuing on. Soon after Briscoe's sidekick Jesse L. Martin left, and the two's string of replacements never filled their shoes the same way. The show also tried to replace female ADAs and again none ever seemed to hold a candle to Angie Harmon or Jill Hennessy (the first two).
This has happened in numerous law/cop shows like NYPD Blue, all of the CSI shows, and so on, but many of the more recent medical dramas have also been guilty of forgetting that characters matter. The two biggest culprits of this crime are ER and Grey's Anatomy. The difference with these two genres is that medical dramas attempt to develop newer characters better, but still fail to make us care about these newer people as well as they did with the original cast.
ER started as this hardcore gritty drama that followed doctors in an emergency room in Chicago. To ER's credit this show did a good job of creating new characters and integrating them into the seam of television landscape. This show understood that we care about the doctors at this hospital and even as many of our favorite characters left, this show brought new ones to fill the void. Once most of the original characters and most of the replacement characters started to leave and the show got to its third and fourth string of replacements ER lost its groove and fell into a slump. This show ended well, but if had ended years earlier it would have ended on top with its loyal fans still caring about the show. I have talked to many ER fans, and there were of course people who watched every season, but numbers don't lie and this show went from from a peak of an average 24 million viewers in its sixth season to about 10 million viewers in its last season, a drop of more than 50 percent.
Grey's Anatomy is another show that is following in the foot steps of ER. Grey's is currently in its eighth season, and the show has lost only three of its original cast members, TR Knight, Isaiah Washington, and Katherine Heigl (two of the actors were seen as divas and caused lots of drama.) The show has also tried out other characters (which failed) and did a spin off with Kate Walsh's character. Grey's could potentially be at an impetus at the end of this season with Patrick Dempsey and Ellen Pompeo (the narrator of the show) wanting to leave. What does a show do when the main characters including the voice of the show want to leave? Shondra Rimes who created the show foresaw this and created another character with last name Grey at the end of the third season, Lexie, Meredith's half sister. I have stopped watching this show, but I have to say this show was created and meant to center around Meredith. The show centered around Lexie will not be the same show.
If Grey's continues I think this show will fall victim to the thing that has happened to numerous television
shows in the past, they will flatline. Grey's Anatomy is already starting do badly in the ratings and without the heart of the show there i think this show will flounder. So what's the answer? I say pull the plug (pun intended). Grey's costs a lot of money, and why not end this show on top rather than have it drag along half ass for another year or two. When shows last far beyond their prime even the most faithful viewers feel the tired with the writing and characters. The answer is, characters matter. When shows try and move on and think character do not they often lose ratings, thus making them less profitable. I myself do not look at shows as just about ratings, but many producers do, and they let their shows go. I hope Rimes does the smart thing and either entices Pompeo and Dempsey to stay for one more season and end the show, or if they do decide to leave that she ends the show all together. i realize I am wishing the cancellation of a show, but I am also putting the value and worth in the characters that drive and entertain viewers above everything.