Ilana Glazer as Ilana Wexler in Broad City
Ilana Glazer plays the more overtly funny of this comedic duo; she is the woman who usurps people working to make her more money at her job while she sits back and does nothing. Ilana is the person who goes on the hunt with her mother for fake hand bags, and gets a bag over her head; she is also the person who Skypes her best friend while she is having sex because her FOMO is off the charts. Glazer is fantastic in this role, and trying to pin point one episode is impossible; she is simple one of the funniest women on television.
Abbi Jacobson as Abbi Abrams in Broad City
Abbi Jacobson is the straight woman in the duo, but boy do her facial expressions sell every awkward moment she encounters. Whether she was tackling her first class as a trainer because she saw her boss do solo porn, or having her play off Kelly Ripa getting drunk and throwing things out her window. Jacobson has tons of talent, and I would argue is under appreciated in this role. My favorite Abbi moment is her drunken cabaret performance, or as her drunker alter ego Val, a la a Judy Garland. Jacobson is a true comedic genius.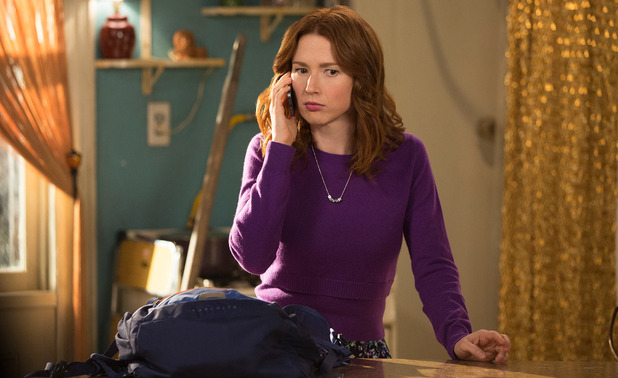 Ellie Kemper as Kimmy Schmidt in Unbreakable Kimmy Schmidt
No one could play Kimmy the way Ellie Kemper plays this character.
Ellie Kemper as Kimmy Schmidt in The Unbreakable Kimmy Schmidt. Kemper is fantastic as the women trapped into the world of a cult for many years who is trying to navigate her return to the world. No actress has the can play up the growth from child like innocence to further developing this stronger sense of self like Kemper. I have not enjoyed a new character in this way since Amy Poehler took on the role of Leslie Knope, Kemper is fantastic.
Lisa Kudrow as Valerie Cherish in The Comeback
Just watch "Valerie gets What she really Wants" and you understand why Kudrow deserves an Emmy nomination. Kudrow is fantastic in this role, and the evolution of this character this season was nothing short of genius. In the last episode you get the best of the funny, and the most depth from Valerie. Kudrow has put her all into this character, and this season proves Valerie Cherish is one of the most important television characters of all time, and namely because of Kudrow.
Amy Poehler as Leslie Knope in Parks and Recreation
Poehler has created one of the most iconic television characters of all time, and in her final go around as Leslie Knope she gave viewers everything they wanted. Poehler's best performance this season was easily "Leslie and Ron" and episode where her feud with Nick Offerman's Ron came to a head and they were locked in a room together to figure out their beef. Poehler hit it it out of the park in this episode, she made you laugh and cry as these two different people were trapped together in one office. Leslie Knope was a magical character that injected positivty in every breath she took, and I can only hope that she went on to be President.
Gina Rodriguez as Jane Villanueva in Jane the Virgin
Gina Rodriguez is the new kid on the block, not to be confused with the boy band, of course. My first encounter with Rodriguez was as Rita, Penny's assistant in the now cancelled Happy Endings, after that episode I knew she was bound for more things; she was just too damn funny. Rodriguez gets to flex every muscle in Jane the Virgin. The telenovela style shows off her humor when she has different versions of herself weighing in on a decision about confronting an old bully or dealing with an issue at work. Rodriguez also has some serious dramatic chops, especially when it comes to the importance of her family, her battle for love, and her child. Rodriguez may be new to the game, but she acts like a pro, and is easily the breakout star of this television season.
Runner Ups: Tracee Eliss Ross as Rainbow Johnson in Black-ish, and Constance Wu as Jessica Huang in Fresh off the Boat