Louis C.K. as Himself in Louie
Louie has always been on the search for love, finding someone who fits within his world, and makes sense. During the six part Elevator series C.K.'s relationship with Amia showed so much growth, was heartwarming, and at times hilarious watching Ellen Burstyn try to translate Amia's words for Louie because Amia did not speak English. While that story arc was on the heartwarming side, my favorite Louie moment involved him accidentally punching the model in the face he picked up at the event he worked for Jerry Seinfeld. The episode entitled "Model" was traditional Louie, and showed the funnier side of of things. C.K. has grown as an actor, and this season has been his best work.
Best Louis C.K. Quote "
"Okay. Fine. Well, you guys... are pretty solid. And the girls love him and he seems like a great guy. And... your relationship has brought a lot of stability to their lives that they lost when we broke up. So. Yeah. He smells like kale."
Jim Parsons as Sheldon Cooper in The Big Bang Theory
For a character who rarely evolves Sheldon had tremendous growth this past season. During season seven of this show, Sheldon realized he had gotten nowhere with his work on string theory and quite his job, and decided to move away. Who knows how long he will be gone, probably not long, but this showed tremendous growth with his character. His willingness to get physical with Amy was also a huge step, and pretty damn funny. Parsons owns this show, and he is the reason I laugh on a weekly basis; he is probably the most talented man in this category.
Best Sheldon Cooper Quote "

I thought that subject had run its course so I changed it. It's called reading the room, Amy."
Jonathan Groff as Patrick Murray in Looking
There are many points in my life where I have been Patrick. I have questioned things, over thought every aspect of a moment, a relationship, what my family thinks. Groff captures the insecurities of work, relationships, and everyday life perfectly. Patrick spent most of his time, looking, pun intended, for what he wanted at work, and in love. Does he want Richie who has his life together in one way or Kevin who has his life together in another way. Sometimes a dilemma like this can be maddening, but at the end, Patrick still needs to find what he wants for himself. There is one scene with his mother, at his sisters wedding that felt so real, and heartbreaking, Patrick had this false sense of ownership on his family. Heartbreaking. While most of this description sounds more dramatic, some of it was, but Groff's adorable awkward moments make are what sold his performance.
Best Patrick Murray Quote "I'm gonna get myself a Mexican fuckbuddy"
Andy Samberg as Detective Jake Peralta in Brooklyn Nine
I just re-watched the episode entitled "Sal's Pizza" last night and while Jake is sometimes overly goofy, there is something endearing about the character. Giving Jake feelings for Amy at the end of the season made him more full formed, and Samberg did such a great as these feelings came to forefront making Jake more deep than most expected. Jake's back story with Gina, and their childhood connection was also great. At the end of the the day Samberg is just plain funny in this role, and he has proven he has the chops.
Best Detective Jake Peralta Quote "-Nine "

This whole place reeks of bacon. Well guess what? I'm going kosher. Cause Jakey don't dig on swine!"
Adam Scott as Ben Wyatt in Parks and Recreation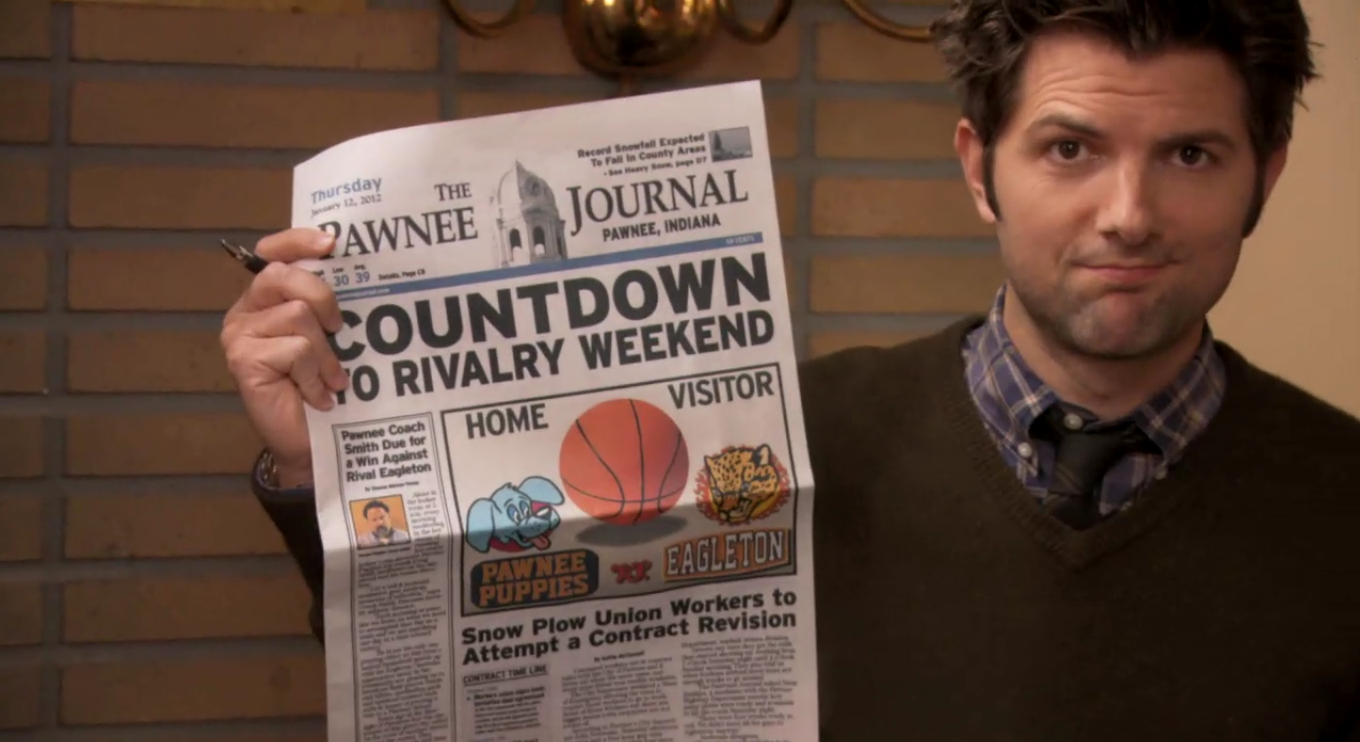 I do not believe in fate or destiny, but can a television show change your mind? It appears even more through this year that Ben Wyatt was made for Leslie Knope and vice avers a. Whether its Ben find his place as City Manager, or battling to prove he created the game Cones of Dunshire, these two were clearly molded as a perfect fit for one another. While Ben and Leslie's connection has always been his best quality, Ben trying to surprise Leslie for their anniversary, and then spending the whole time with Gerry/Larry was straight up comedic genius. Scott is one of the funniest men on television.
Best Ben Wyatt Quote "
No, that's Buckingham Palace. Hogwarts is fictional. You do know that, don't you? It's important to me that you know that.
Robin Williams as Simon Roberts in The Crazy Ones While The Crazy Ones did not push any boundaries outside of a traditional sitcom, the acting was great, and the laughs were non-stop. Robin William's was at his best in this show; he played to his strengths as a rapid fire comedienne, while also showing his softer side as a dad and mentor to the folks who worked for his agency. Simon Roberts was a great character, and whether he was trying to live down his fear of playing for the company baseball team, battling with Brad Garrett's character, or bro-ing out with Zach, Williams was just too funny, and great in this role.
Best Simon Roberts Quote "

I'm ready to pitch them the truth. "Australia: it's so hot not even the Nazis wanted it".