Malin Akerman as Kate Harrison in Trophy Wife
Aw Kate, she has such good intentions and wants to be the best wife and step mom, but imagine imagine two crazy ex-wives in the picture. Akerman was fantastic as Kate, she played the character with such heart, but there was also some wonderful self-deprecating moments. Akerman has mostly played smaller roles, or less shiny ones in film, but I loved getting to watch her do some great work here. Kate was not always the most loud or obvious comedienne, but she was great all the things that counted, and that made her role and her acting shine through. Akerman needs more vehicles to show off her talent.
Best Kate Quote "How do you not know who Iron Man is? He was in like every movie this summer."
Ilana Glazer as Ilana in Broad City
Ilana is pure joy, pure hilarity, and just plain awesome at physical humor. From calling out Abbie on her white privilege, to stuff weed in her vagina, to stealing lotion in bags from Bed Bath and Beyond. Broad City is funnier off shoot of Girls. While Girls tackles the hard line "reality" of life Broad City and Ilana herself make fun of the everyday aspects of life in New York City. Ilana Glazer is one of the funniest women on television, it was hard to pick between her and her co-star, but Ilana and her character Ilana just prove that making fun of hipsters in New York City is too easy.
Best Ilana Quote "Who would you rather have go down on you, Janet Jackson or Michael Buble?" tied with "Damn that penis is pink!"
Mindy Kailing as Mindy Lahiri in The Mindy Project
Mindy is the person we all pretend we are not; she loves rom-coms, and wants the moments in life to be perfect. This season Mindy continued her journey to find love, but it was her connection with Danny that seemed inevitable, and written in the stars. Kailing is great within this role; she tries to take control of her world, manufacturing every moment to look and feel perfect, but as this season and especially the last episode goes, sometimes you need to let surprises take hold. Kailing never over sells the hopeless romantic aspects of her character, she is genuine, and that is the best part about her character, and her acting.
Best Mindy Quote "
The only downside of being a woman who can make her own decisions is that you have to make good decisions."
Julia Louis-Dreyfus as Vice President/President Selina Meyers in Veep
What Seinfeld curse? Julia Louis-Dreyfus is the queen of comedic television comedy, from Elaine to Selina Meyer, you just know this woman is going to bring her A-game every time. Selina started out hoping the President would fade away, and as we watched Selena start working on her campaign, battling between pro-life, and pro-choice, dealing with a VERY hands on personal trainer, you couldn't help but laugh at her cursing at everyone. Selena then gets the seat she has always wanted after an awkward debate, and while its gratifying it was even more exciting to watch things crumble. Hilarious!
Best Selina Meyer Quote "
God, there's so many people in here. It's like a Mormon orgy."
Abbi Jacobson as Abbi in Broad City
Abbi is often the one along for the ride, but her antics along Ilana are something special. I think my favorite running joke throughout the show is goal of being a personal trainer yet she spends no time working out, and that her boss at the gym makes her constantly snake the toilet at the gym. Abbi's addiction to Bed Bath and Beyond is priceless along with her chemistry with her roommate's boyfriend, Bevers. The fights between Abbi and Bevers are some of the funniest moments on the show. My favorite Abbi moment is thinking that that her art they hang in a Vegan Sandwich shop is an actual art show. Abbi is the embodiment of hope in hopeless world, and its a riot.
Best Abbi Quote "I really don't feel like going to work today"
Amy Poehler as Leslie Knope in Parks and Recreation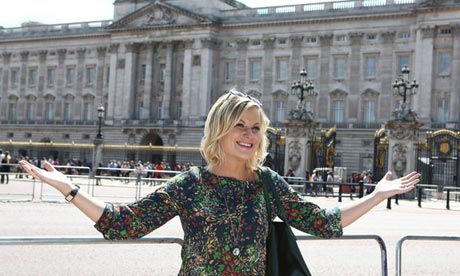 Amy Poehler continues to be the heart and center of this show, and one of the funniest women working in television today. Leslie Knope went through a recall, losing her best friend to a move, and then ultimate a new career path, and triplets in a time jump. Poehler finally won her first award for this show at the Golden Globes this past January, and its time for her to earn some recognition at the Emmy Awards this August. Poehler has grown so much in this characters, and I have loved getting to watch her character become more than she was intended to be, that's Leslie Knope!
Best Leslie Knope Quote "
Good, I hate paperwork. I hardly ever do it in my bed on a Saturday night listening to old Spice Girls CDs.