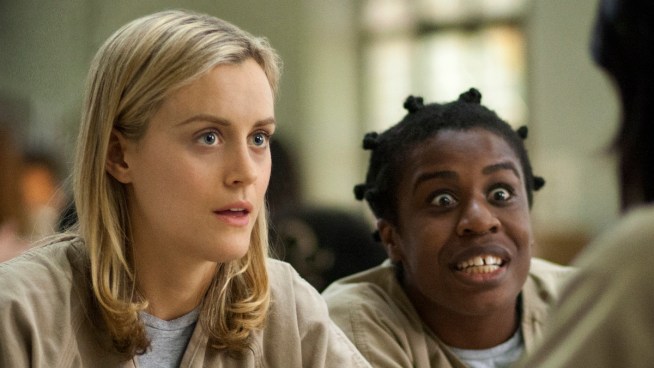 Emmy nominations will be announced this Thursday, will your favorite show/actors make the cut?
Here is who I think will make the cut, and why in the Outstanding Drama and Comedy Series categories
.
Will Orange is the New Black make a Big Splash? Will Homeland be snubbed as badly as some are predicting? Will Modern Family and Breaking Bad repeat last years' wins.
Look for Orange is the New Black, Game of Thrones, True Detective, Breaking Bad, The Normal Heart, Fargo, and probably Modern Family to have the most nominations.
Outstanding Comedy Series
The Big Bang Theory (CBS)
Orange Is the New Black (Netflix)
These six make the most sense. Girls was still great in season 3, but the show will probably be dropped. Silicon Valley has a better shot, but HBO's only pony in this race will be Veep. This will be the first since 1981 NBC will not have a comedy series nomination, which they have dominated they have 19 wins since 1981.
Bad, Thrones, Cards, and Detective are safe. Who takes up the last two spots? Three past favorites Downton Abbey, Homeland, and Mad Men are all on the fringe. Can The Good Wife surge back? Does Masters of Sex have the chance to make it in is first year for Showtime? Many are talking The Americans, but it only was a blip last year. I think Homeland may be out, but I also think there will be seven nominees, playing it safe with the last two nominees.
American Horror Story: Coven (FX)
Dancing on the Edge (Starz)
The Hollow Crown [Great Performances] (PBS)
Outstanding Television Movie
Return to Zero (Lifetime)
Sherlock: His Last Vow [Masterpiece] (PBS)
The Trip to Bountiful (Lifetime)
Outstanding Reality-Competition Program
Project Runway (Lifetime)
So You Think You Can Dance (FOX)
Outstanding Variety Series
The Colbert Report (Comedy Central)
The Daily Show with Jon Stewart (Comedy Central)
Late Show with David Letterman (CBS)
Saturday Night Live (NBC)
The Tonight Show with Jimmy Fallon (NBC)
Outstanding Lead Actor In A Comedy Series
Louis C.K. as Louie, Louie (FX)
Don Cheadle as Marty Kaan, House of Cards (Showtime)
Matt LeBlanc as Matt LeBlanc, Episodes (Showtime)
William H. Macy as Frank Gallagher, Shameless (Showtime)
Jim Parsons as Sheldon Cooper, The Big Bang Theory (CBS)
Andy Samberg as Detective Jake Peralta, Brooklyn Nine-Nine (FOX)
Outstanding Lead Actor In A Drama Series
Bryan Cranston as Walter White, Breaking Bad (AMC)
Woody Harrelson as Martin Hart, True Detective (HBO)
Matthew McConaughey as Rust Cohle, True Detective (HBO)
Michael Sheen as Dr. William Masters, Masters of Sex (Showtime)
Kevin Spacey as Francis Underwood, House of Cards (Netflix)
James Spader as Raymond Reddington, The Blacklist (NBC)
Outstanding Lead Actor In A Miniseries Or A Movie
Benedict Cumberbatch as Sherlock Holmes, Sherlock: His Last Vow [Masterpiece] (PBS)
Chiwetel Ejiofor as Louis Lester, Dancing on the Edge (Starz)
Martin Freeman as Lester Nygaard, Fargo (FX)
Jeremy Irons as King Henry IV, The Hollow Crown [Great Performances] (PBS)
Mark Ruffalo as Ned Weeks, The Normal Heart (HBO)
Billy Bob Thornton as Lorne Malvo, Fargo (FX)
Outstanding Lead Actress In A Comedy Series
Lena Dunham as Hannah Horvath, Girls (HBO)
Edie Falco as Jackie Peyton, Nurse Jackie (Showtime)
Mindy Kaling as Dr. Mindy Lahiri, The Mindy Project (FOX)
Julia Louis-Dreyfus as Selina Meyer, Veep (HBO)
Amy Poehler as Leslie Knope, Parks and Recreation (NBC)
Taylor Schilling as Piper Chapman, Orange Is the New Black (Netflix)
Outstanding Lead Actress In A Drama Series
Claire Danes as Carrie Mathison, Homeland (Showtime)
Vera Farmiga as Norma Bates, Bates Motel (A&E)
Julianna Margulies as Alicia Florrick, The Good Wife (CBS)
Tatiana Maslany as Various characters, Orphan Black (BBC America)
Kerry Washington as Olivia Pope, Scandal (ABC)
Robin Wright as Claire Underwood, House of Cards (Netflix)
Outstanding Lead Actress In A Miniseries Or A Movie
Helena Bonham Carter as Elizabeth Taylor, Burton and Taylor (BBC America)
Minnie Driver as Maggie Royal, Return to Zero (Lifetime)
Whoopi Goldberg as Viola, A Day Late and a Dollar Short (Lifetime)
Jessica Lange as Fiona Goode, American Horror Story: Coven (FX)
Sarah Paulson as Cordelia Foxx, American Horror Story: Coven (FX)
Cicely Tyson as Carrie Watts, The Trip to Bountiful (Lifetime)
Outstanding Supporting Actor In A Comedy Series
Andre Braugher as Captain Ray Holt, Brooklyn Nine-Nine (FOX)
Ty Burrell as Phil Dunphy, Modern Family (ABC)
Jesse Tyler Ferguson as Mitchell Pritchett, Modern Family (ABC)
Tony Hale as Gary Walsh, Veep (HBO)
Ed O'Neil as Jay Pritchett, Modern Family (ABC)
Eric Stonestreet as Cameron Tucker, Modern Family (ABC)
Outstanding Supporting Actor In A Drama Series
Jim Carter as Mr. Carson, Downton Abbey (PBS)
Josh Charles as Will Gardner, The Good Wife (CBS)
Peter Dinklage as Tyrion Lannister, Game of Thrones (HBO)
Dean Norris as Hank Schrader, Breaking Bad (AMC)
Aaron Paul as Jesse Pinkman, Breaking Bad (AMC)
Jeffrey Wright as Valentin Narcisse, Boardwalk Empire (HBO)
Outstanding Supporting Actor In A Miniseries Or A Movie
Matt Bomer as Felix Turner, The Normal Heart (HBO)
Martin Freeman as John Watson, Sherlock: His Last Vow [Masterpiece] (PBS)
John Goodman as Masterson, Dancing on the Edge (Starz)
Colin Hanks as Gus Grimly, Fargo (FX)
Joe Mantello as Mickey Marcus, The Normal Heart (HBO)
Jim Parsons as Tommy Boatwright, The Normal Heart (HBO)
Outstanding Supporting Actress In A Comedy Series
Mayim Bialik as Amy Farrah Fowler, The Big Bang Theory (CBS)
Julie Bowen as Claire Dunphy, Modern Family (ABC)
Anna Chlumsky as Amy Brookheimer, Veep (HBO)
Allison Janney as Bonnie Plunkett, Mom (CBS)
Kate Mulgrew as Galina "Red" Reznikov, Orange Is the New Black (Netflix)
Merritt Wever as Zoey Barkow, Nurse Jackie (Showtime)
Outstanding Supporting Actress In A Drama Series
Christine Baranski as Diane Lockhart, The Good Wife (CBS)
Joanne Froggatt as Anna Bates, Downton Abbey (PBS)
Anna Gunn as Skyler White, Breaking Bad (AMC)
Michelle Monaghan as Maggie Hart, True Detective (HBO)
Maggie Smith as Violet Crawley, Downton Abbey (PBS)
Bellamy Young as Mellie Grant, Scandal (ABC)
Outstanding Supporting Actress In A Miniseries Or A Movie
Angela Bassett as Marie Laveau, American Horror Story: Coven (FX)
Kathy Bates as Madame Delphine LaLaurie, American Horror Story: Coven (FX)
Jacqueline Bisset as Lady Cremone, Dancing on the Edge (Starz)
Ellen Burstyn as Olivia Foxworth, Flowers In the Attic (Lifetime)
Julia Roberts as Dr. Emma Brookner, The Normal Heart (HBO)
Allison Tolman as Molly Solverson, Fargo (FX)
Outstanding Host For A Reality Or Reality-Competition Program
Tom Bergeron as Host, Dancing with the Stars (ABC)
Carson Daly as Host, The Voice (NBC)
Cat Deely as Host, So You Think You Can Dance (FOX)
Heidi Klum & Tim Gunn, Project Runway (Lifetime)
Jane Lynch as Host, Hollywood Game Night (NBC)
Jeff Probst as Host, Survivor (CBS)
Outstanding Guest Actor In A Comedy Series
Louis C.K. as Host, Saturday Night Live (NBC)
Jimmy Fallon as Host, Saturday Night Live (NBC)
James Earl Jones as Himself, The Big Bang Theory (CBS)
Nathan Lane as Pepper Saltzman, Modern Family (ABC)
Bob Newhart as Arthur, The Big Bang Theory (CBS)
Pablo Schreiber as George "Pornstache" Mendez, Orange Is the New Black (Netflix)
Outstanding Guest Actor In A Drama Series
Beau Bridges as Barton Scully, Masters of Sex (Showtime)
Dan Bucatinsky as James Novak, Scandal (ABC)
Paul Giamatti as Harold Levinson, Downton Abbey (PBS)
Robert Morse as Bertram Cooper, Mad Men (AMC)
Joe Morton as Rowan Pope, Scandal (ABC)
Pedro Pascal as Oberyn Martell, Game of Thrones (HBO)
Outstanding Guest Actress In A Comedy Series
Uzo Aduba as Suzanne "Crazy Eyes" Warren, Orange Is the New Black (Netflix)
Kathy Bates as Kay McKinnon, Mike & Molly (CBS)
Ellen Burstyn as Evanka, Louie (FX)
Laverne Cox as Sophia Burset, Orange Is the New Black (Netflix)
Tina Fey as Host, Saturday Night Live (NBC)
Melissa McCarthy as Host, Saturday Night Live (NBC)
Outstanding Guest Actress In A Drama Series
Kate Burton as Sally Langston, Scandal (ABC)
Jane Fonda as Leona Lansing, The Newsroom (HBO)
Allison Janney as Margaret Scully, Masters of Sex (Showtime)
Lisa Kudrow as Josephine Marcus, Scandal (ABC)
Carrie Preston as Elsbeth Tascioni, The Good Wife (CBS)
Diana Rigg as Lady Olenna Tyrell, Game of Thrones (HBO)